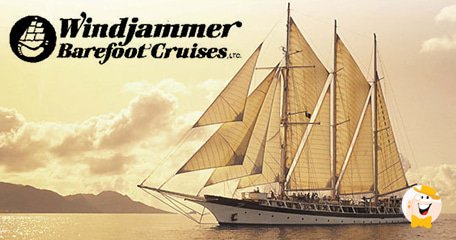 'Dear Geno,' a member writes. 'My girl friend and I are executive secretaries in Washington D.C. While we are not exactly James Bond girls, we're kinda cute and we are taking the vacation of a lifetime -- a 10-day Caribbean cruise that will drop anchor at St. Maarten and other islands. I know from reading this website that you lived in the Caribbean for a while. We both play a little poker and we are definitely in the mood for romance. Can you give two poor working girls from D.C. some good advice? Janine W. and Traci G., Washington D.C.'
Ah Janine and Traci, if I were 20 years younger you might meet me on the decks of your casino ship!
First, let me congratulate you on your upcoming cruise. Weather permitting, I am sure it will be an experience you will remember for the rest of your lives.
You didn't tell me what cruise line you are taking. If it was the Windjammer Barefoot Cruise Lines, I would commend you for your choice as they were the best of the best. Capt. Mike Burke's tall ships would provide you with the height of a romantic sea adventure.
Mike's ships could accommodate up to 120 passengers and about 25 crew members. The bar stayed open all night, pleasant reggae music filled the ship, and dolphins and flying fish chased the slim ship through the Caribbean waters.
Windjammer went out of business some time ago after a hurricane tragedy at sea that claimed the entire crew. I am sure you're on one of the larger cruise ships that can hold thousands of passengers. There will be plenty of activities for the two of you, from skeet shooting off the bow to swimming in one of the ship's several pools or sipping a cocktail on deck or in a lounge.
Yes, there will be fast-talking young men in the mood to meet a couple of secretaries from the nation's capitol. Just take their lines with a grain of salt and you'll be fine.
When your ship anchors at St. Maarten, you will love the beauty of the island. A casino named the Rouge Et Noir -- Red and Black -- is situated next to the dazzling white sand beach. When I lived on St. Maarten, Rouge Et Noir always had a poker game going. It was a friendly, honestly run game that attracted locals as well as tourists and will provide a lot of enjoyment.
Since you mentioned James Bond, there is another casino known as the Casino Royale just a few blocks from the Rouge Et Noir. It is a much more elegant casino and should provide the two of you with a lot of fun. The casino has live entertainment, excellent food and good gambling.
You may also want to visit the Atlantis World Casino across the island. It's located next to a golf course and is well run. When I lived and worked in St Maarten, Mario was the poker room manager and you won't find a more pleasant person than him. Chat him up. Talk to him about American politics and tell him where you are from. He will steer you to the right game in his poker room and you'll be fine.
I left a lot of friends behind when I left St. Maarten after my work permit expired. Stay close to the casinos, don't do a lot of touristy things as there are snatch-and-grab robbers on St. Maarten, nicknamed 'The Friendly Island.' The police try to protect visitors, but their hands are full. Just use common sense, the same as you would do if you were walking the streets of your home city.
I envy you your cruise. It will take you two or three days at sea to unwind from the tension and anxiety of America But once you fall victim to the tropical winds and the romance of being on a turquoise ocean, you'll experience a new life that you won't want to leave. Take care and good sailing.