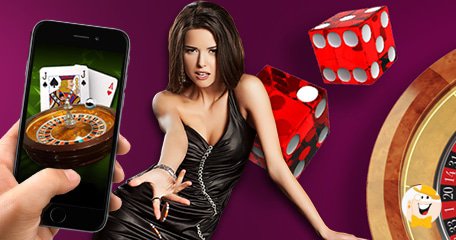 How Technology Has (And Will) Change Gaming Online
What's the old adage? The more things change, the more they stay the same?
While that adage is often true, the realm of online gambling is one in which it couldn't be further from the truth. During the infancy of online gambling, which anyone old enough to gamble now was at least alive for, the technology was so poor that very few hands could be played within an hour, (unless you had an unbelievably expensive computer and amazing Internet connection that comes fairly standard today) and the physical representations of playing cards, in a game such as Blackjack, looked like a poorly distorted picture of a picture of something that might be mistaken for actual playing cards to an untrained observer.
However, as we all know, Internet connection speeds are faster than they've ever been, and the majority of smartphones that are available today have greater computing power than did many actual computers over a decade ago. In fact, for those who use their devices for anything except the most intricate MMORPG's, or things of that nature, smartphone technology is such that the graphical displays and processing speeds are not meaningfully slower than those that are enjoyed on today's personal computers.
The ultimate result of this technological coming of age is game graphics that are much more reminiscent of an actual live casino atmosphere. Playing cards, in many cases, are as intricate as playing cards. The graphical display of cards sliding across the table, in many online casinos, do not look much different than actual cards sliding across and actual table, in fact, the graphical displays are much cleaner and not prone to the physical mistakes that live dealers occasionally make.
The speed of both the Internet connection, servers and the units upon which people are doing the playing are also such that individuals can play electronic table games faster than they can their live casino equivalents. With respect to presentation, many online slot machine games are now on par with what can be experienced in actual land-based casinos.
While none of this is any secret to anyone, and while these improvements have largely been gradual, there are a few areas of online gambling in which the technological advancements have been far more rapid, and furthermore, I believe that there will be other areas of online gaming for which the technological advancements will result in an even more enhanced player experience.
Live Casinos:
For one thing, the offering of, 'Live,' casino table games is quickly becoming a standard and an expectation for individuals who wish to game online. While this technology was limited to only a few casinos just a few years ago, it is rapidly spreading and has actually became a serious part of the market. In fact, it is such a big part of the market for online gaming that a number of promotions have been developed and geared towards individuals who wish to play live casino table games as opposed to their electronic equivalents. I have recently taken a look at a few such promotions which were taking place at Royal Panda Casino.
These games are popular for a number of reasons, players can rest assured that the games taking place are, in fact, live. The reason this is the case is that many online casinos will have a television in the background which is playing some live TV program or sporting event which is geared to demonstrate that the actual game is being conducted in real time. It is for these reasons that several players who may have once been hesitant to gamble online are now more eager, given that the event is actually taking place in a live atmosphere, the players feel secure that the outcome of the game has not been predetermined, and rightfully so.
It is only because of advances to technology and Internet speeds that such games are possible. For example, if you take a look at the game of blackjack, players get dealt two starting cards whereas the dealer exposes one of his/her cards and then, barring a natural, the player must decide whether to hit/stand/split/double/surrender based on the player's hand and as allowed by the rules. This actually requires the live video streaming to be of such quality that every player is able to, 'Keep up with the game,' as any attempt at live gambling online several years ago would have been nearly impossible due to Internet speeds. It theoretically could have happened, but the type of computing power that would have been needed to provide the player with the broadcast and to communicate the player's decisions to the casino (as well as to adjust the player's balance according to the results) would have been such that each hand likely would have taken several minutes.
Of course, such a game would have been virtually impossible to play. It would not have been good for the players because the game would have rapidly become boring, and it would not be advantageous for the casinos because they could not get enough hands per hour dealt to actually make any meaningful amount of money on the game.
For such a game to work, the player is required to have Internet speeds that are such that there is virtually no delay, or very little delay, in the broadcast as compared to when the cards are physically dealt. Furthermore, the player has to be able to quickly transmit his/her decision back to the casino so that the next player in line can make his or her decision, and so on.
I do not know that live online table games will ever completely replace the electronic online equivalent at every casino, but they are certainly becoming more popular and, one would presume, will continue to do so. The main reason that I think the electronic version of table games will continue to survive, however, is because the electronic versions of the various table games tend to have lower minimums than their live streaming equivalents.
Mobile Casinos:
Another serious advancement has been made with the advent of smartphone technology is the need for mobile casinos, or alternatively, for online casinos to have a mobile version of some of their games. It has been estimated that roughly 30% of online gambling that takes place is done on a mobile device and that number is expected to grow in the coming years.
Imagine that a decade ago, if someone were to say, "In under ten years, the casino will be available to you wherever you are," you would have probably called the person crazy. As it stands now, there are a few online casinos that only operate as mobile casinos while other online casinos of any reasonable size and with any reasonable number of players will tend to have a mobile version.
The mobile versions of online casinos are not lacking in graphical presentation, either, with slot games, video poker and video keno games largely having just as impressive a graphical presentation as their counterparts that can be played on the PC or tablet. The main difference with mobile casinos is that the layout is designed to fit the smaller screen and the graphics are specifically designed to be compatible with touchscreen technology that is common to almost all (probably all) mobile devices.
Regardless of where a person is, that person can play online casino games. Even in the event that the individual does not have a WiFi connection available to him/her, the individual can often rely on his/her wireless network for an Internet connection. In fact, many wireless providers are now rolling out unlimited data plans, so individuals who play online using that technology with an unlimited plan will not have to worry about any data overage charges or any reduction in Internet speed that comes as a result of using all of the data allocated to them.
This was naturally an impossibly positive thing for online casinos because, whether it be waiting for a doctor's appointment, meandering around a store, driving (unfortunately) riding in a car, or doing any other activity, an individual can log into his/her casino account and spend a few minutes or longer playing the games. This represents the ultimate in convenience gambling in the sense that there is almost literally no separation from the individual and the casino unless the individual wants there to be. Even going to work is not necessarily a, 'Cool off,' because the individual could play the mobile version of the casino on breaks, lunch or during other downtime and, to a casual observer, it is difficult to tell whether the individual is playing at a casino or a free-to-play game. In fact, in all likelihood, a casual observer would probably just assume it is a free-to-play app, or something along those lines, rather than actual gambling.
Even with all of those technological advancements, however, there are still some significant differences between the online casino and live casino experience. It can be expected that online casinos will make use of the technology available to them to further close that gap to whatever extent they can which brings us to…
Virtual Reality:
As improvements are made to virtual reality technology, the potential for online casinos to match the land-based experience more closely will grow ever greater. While some concept of virtual reality has existed for quite some time now, there had been some question as to whether or not the hardware necessary to deliver the VR experience to the user would ever be affordable. Many of the virtual reality headsets that are on the market today are similar in price to a new smartphone, so it can be said that they are affordable.
It is difficult to say who will be the first online casino operator to modify their technology to be compatible with virtual reality, but it is virtually beyond doubt that an online casino will do it eventually. When that is done, and if it can be combined with the technology that allows for live casino streaming, the player (from a visual and other sensory standpoint( may effectively feel as though he is actually in a casino while he is playing online.
To wit, there will be the presentation of an actual live casino background likely complete with the background noise so common to casinos, individuals walking around the casino floor, other players and patrons talking amongst themselves and people having a good time in general. In fact, as a player switches from one game to another, each individual game could represent a physical depiction of that area in a casino and the player will be able to look around at the other areas of the casino as though he/she was really there.
From the blackjack table at which the player is playing, the player can see the craps table. If the player moves and decides to start playing craps, he or she can look over at the blackjack table that he/she just vacated and see the players that were there, continuing to play, after the player had left. Of course, it will be highly unlikely that the physical representations of the other players will match the other individuals who are actually playing the game from their own locations, but the point is, if the player leaves the blackjack table with four people and goes to the craps table, then the live blackjack table may continue to have four players until someone either gets up or someone new sits down.
The full gamut of machine games may also become more realistic in its presentation with surrounding players and noise as would be expected in a live casino environment. Furthermore, the live casino atmosphere in and of itself will likely be somewhat customizable and based upon the designs present at actual live casinos giving the player using the virtual reality technology the ability to fully customize his or her overall experience and essentially, 'Create,' a casino suited to his or her tastes.
The possibilities are endless and as long as online casino technology continues to stay with the existing technological trends and advancements, as they have largely made an effort to do over the last several years, the possibilities for bringing to the players an experience that is, 'More real,' are going to be endless.
Of course, the online casinos will be unable to replicate the experience of getting free drinks in those casinos that disseminate with those, but as far as the visuals and the audio experience is concerned, there will eventually come a time when online casinos are virtually indistinguishable from land-based casinos.
Why is This Necessary?
Whether or not the online players know it, the vast majority of them have always desired an experience that parallels the live casino experience. If that was not the case, then there would be no need for slot or video poker games. You could simply have an all-text game upon which a player makes a bet and the casino informs the player in text whether the player has lost or won, and if the player has won, then how much.
The fact of the matter is that every land-based casino has hundreds of slot options available and it is for that reason that online casinos also offer several dozen, if not more, slot game options. Rather than have a result delivered to them in text form, the players want to have the experience of trying out all of the different machines until they find one that they like. While I do not personally look at playing at an online casino as an, 'Experience,' (I only play at them if I have an expectation of winning) many players do consider it an experience and these technological advancements will only heighten the experience.
Furthermore, if the individuals who choose to play at online casinos were not keen on being offered an experience that more closely parallels that at land-based casinos, then there would be no reason for those players to have any interest in live dealer games, yet the online casino industry is quickly coming to the realization that live dealer games are rapidly moving from a nicety to the expectation, and the casino industry is moving accordingly.
As the online casino industry continues to attempt to replicate the experience that visitors to land--based casinos enjoy, they will have to incorporate existing and future technology into their design to make the player experience even more realistic. Of course, in doing so, the online casino will continue to have their one fundamental advantage over land-based casinos: Players do not have to travel to play at their favorite online casino, Hell, they don't even have to get out of bed if they don't want to!
These developments will prove advantageous for those who wish to play at online casinos as they will be falling all over themselves to offer the most technologically intricate and dynamic experience while continuing to implement strong promotions to draw players in. However, I also think that these advances to the online casino technology will be beneficial for those who visit land-based casinos, as well.
The reason that I would suggest that is because, at this point, online casinos do not really compete with land-based casinos from the standpoint of the land-based casino. As far as the land-based casinos are concerned, online players are generally just online players and there is really no way to market to them. However, at such time that the online casino experience is closely comparable to the land-based casino experience, then the land-based casinos may be forced to be more aggressive in their promotional tactics to retain players and to keep them from playing online.
Furthermore, as the state revenues fall due to the fact that online casinos continue to cut into market shares of land-based casinos in the United States, then those states are going to have the goal of preserving their tax revenues by any means necessary, and those means will likely include eventually legalizing and regulating online casinos that are based within the state in question. This, of course, will be beneficial for U.S. players as it will give them a means by which they can play online and those players will also feel secure in knowing that they are protected by the Gaming Division (or equivalent) within their respective states.
In other words, there will come a time that land-based casinos and online casinos, while still distinguishable from one another, will not be as distinguishable from one another. The online casino experience, furthermore, will become, 'Real,' enough to cut into the land-based market to a meaningful enough degree to be readily noticed and changes to be put in place to preserve revenues.
Of course, there still won't be any way for the online casinos to provide free drinks to the players that I can think of, so my recreational gaming will probably continue to be done in brick and mortar casinos.
Conclusion:
Online casinos have shown a keen ability to incorporate advancements in technologies into their offerings to come ever closer to mirroring the live casino experience, and it can be expected that they will continue to incorporate further technological developments into their playing platforms to offer ever more realistic experiences.
While there was a time that online casinos where the realm of advantage players and recreational players who, by and large, may not have had much in the way of ease of access to land-based casinos, the future might hold that online casinos fully achieve their apparent goal of becoming a replacement for land-based casinos entirely. The technological advancements that have taken place at online casinos have served to improve the game offerings, graphics and overall user experience to such an extent that the offerings at such casinos might reasonably be deemed comparable to those available in the brick and mortar atmosphere.
Given the fact that virtual reality technology is improving and that such technology is likely to be incorporated into the atmosphere of online casinos, one can surmise that there will come a time that online casinos will be able to offer a true, 'Experience,' in the sense that brick-and-mortar casinos do rather than just a means to gamble. The main difference between online casinos and brick-and-mortar casinos will be that the experience of online casinos will be able to be enjoyed by the player at home, or really, wherever the player goes.