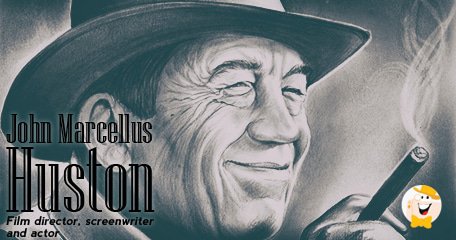 John Marcellus Huston was a film director who made some of the best movies of his time. Besides directing 'The Misfits,' 'The African Queen' and 'Treasure of the Sierra Madre', he was also quite a gambler.
What can I say about Huston that will help you understand him? For openers, his actress daughter Angelica wrote a book about her life with him in which she describes him as much bigger than life.
Born in the tiny hamlet of Nevada, MO., Huston grew up in a family broken by divorce. He came into the world on Aug. 5, 1906, the only child of Rhea Gore and Walter Huston, who became a well known actor.
John's father published newspapers. He also worked as a cowboy, owned a saloon, became a judge, was a professional gambler and was a confirmed alcoholic. Once in a poker game, he even won the town of Nevada, although details on that feat are hazy.
But John Huston became a newspaper reporter, an amateur boxer, a short story writer, a portrait artist, and a cavalry officer who rode in Mexico. That gave him the fundamentals to tell great human stories through the art of film.
He was married five times.
He lived in Ireland for a number of years. Angelica, who had a younger brother named Tony, remembered him being gone a lot working on films halfway around the world. She adored her father and missed him terribly when he was gone.
But Huston marched to a different drumbeat than most men. One of his films, 'Under The Volcano,' starred Albert Finney as an alcoholic ambassador who comes to a tragic end while living in Mexico.
Huston loved the intrigue of Mexico and made several of his movies there including 'Treasure of the Sierra Madre' starring Humphrey Bogart. His father, Walter Huston, appeared in the movie and won an Academy Award for Best Supporting Actor. John won two Academy Awards for Best Director and Best Adapted Screenplay.
Standing six-foot-two, Huston admitted to being a hard-drinking womanizing gambler.
Once in an interview, he told the magazine writer, 'I'm forever and eternally bored. Only gambling is interesting.'
He directed 37 feature films and wrote the scripts for all of them.
During the filming of 'The Misfits,' which starred Clark Gable, Marilyn Monroe and Montgomery Clift, he would spend his evenings and sometimes all night in a gambling casino in Reno where much of the movie was filmed.
His favorite gambling games were dice, poker and betting on the horses. One evening he took Marilyn Monroe with him. As she shook the dice before the roll, she said, 'John, what should I ask the dice for?'
Huston smiled. 'Don't think, honey,' he said. 'Just throw. Don't think. Do it.'
To another magazine interviewer, Huston admitted one of the toughest poker players he ever competed against was movie producer Mike Todd. He said Todd brought two professional gamblers into the game and that they became involved in raising wars in a five-card stud game that got expensive.
'They were tough,' Huston said, 'but I won over $20,000 on one hand with a pair of nine's.'
Wherever Huston traveled while he was on location he would set up poker games in his hotel room. The games were five-card draw, five-card stud and seven card stud. There was only one rule: women could watch the games, but they could not play.
When a writer asked him why, Huston shrugged. 'I don't like playing against women because I always lose to them. I could never challenge a woman. I didn't want to take advantage of them and take their money.'
Huston's best friends were Ernest Hemingway, Orson Welles and Humphrey Bogart. An interviewer once pushed him on his macho reputation and asked him if he liked being called a 'man's man.'
'Not really,' Huston said. 'I don't consider myself macho. If I were to really describe myself I would call myself nobody's man.'
Huston died at the age of 81 on Aug. 28, 1987 of emphysema.