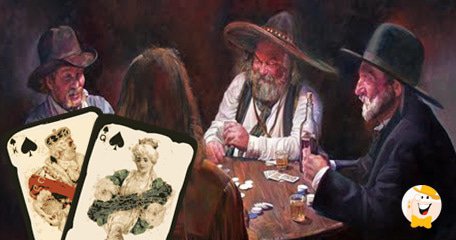 It has been a long time since gamblers felt they had to carry a gun before they sat in at poker table or another gambling game in the wild, wild West.
Guns and gambling have been linked ever since the early frontier saloons and gambling halls came into existence. The men and sometimes the women who entered those dens of iniquity generally had guns strapped to their hips. Some of them concealed the weapons for easy access in case they had to use it over a gambling dispute.
Some of the saloons and casinos had a sign over the bar requiring patrons to check their firearms. They would be given a check just like you would when you checked your hat or coat at an upscale New York club.
Now I have always been a gun person. I grew up in a family where my brothers and I hunted and we always had guns in our home. I support the National Rifle Assn. and think a well-crafted gun can be an object of beauty as long as it is properly stored and used.
In the days of the early West, a gun was as necessary to a cowboy as a saddle, a rope and a horse. He took his gun with him wherever he went. It became part of him and was no cause for concern when the cowboy rode his horse down the street or entered a public place.
Most of the saloons had a side or back room where gambling took place. The games included faro, dice, roulette, poker and a version of 21 or blackjack called Vinget-et-un. That game originated in New Orleans and was very popular with the cowboys, especially after they had consumed a couple of drinks.
There was no Internet or television in those days and gambling was one of a cowboy's favorite pasttimes, especially after he had been in the trail herding cattle or sheep for days or even weeks.
When the cowboys came to the end of their drive, they would be paid and would head to the nearest town to spend their money. There the gamblers and the saloon girls waited for them. Nothing was too good for a cowboy who had just gotten paid.
The lawmen of that era had a tolerant attitude toward cowboys -- up to a point. But some of them like Wyatt Earp, Bat Masterson and Doc Holliday were borderline criminals who wouldn't hesitate to shoot a person who got out of line.
Justice was sure and swift in the cattle towns. There was a lot of vigilante justice and people were hung for killings or even stealing horses.
Women gamblers were as popular as the men and, yes, the ladies were often armed. Gambling was not looked down upon. It was considered as legitimate a profession as being a doctor, barber or lawyer, as long as the gambler was honorable and honest.
Professional gamblers would rent space in a saloon and set up a table where they would spread their game. They would pay the owner of the saloon a hefty fee for running their game and as long as they were honest and made proper payoffs to the winners, they were welcome. But if they were caught palming cards or otherwise cheating, things could turn bloody in a hurry.
Women gamblers like Lottie Deno, a beauty and a card shark, kept pistols or knives strapped beneath their full skirts. Lottie once beat Doc Holiday in a game of poker, which caused him to smile in embarrassment as his cronies kidded him about the loss.
Dona Marie Gertrudes Barcello was another attractive gambler as was Kitty Leroy. They both made their marks on frontier saloons and lived a life of high style that involved men, liquor and cards.
While the most popular gun on the trail was one of the Colt models invented by Samuel Colt, that weapon was too large and too heavy for the average gambler. The poker players preferred pearl-handled pistols with short barrels.
These weapons were easily concealable and fired one, two or as many as five shots without having to be reloaded. Some of the pistols had a knife attached to the barrel for when the ammunition ran out.
Gamblers were wary of protecting their backs and would often take a chair where they could have their back to the wall. James Butler 'Wild Bill' Hickok was that kind of gambler. His luck ran out one night when the only seat available had his back facing the entrance to the saloon. That was when he picked up his poker hand of aces and eights and an enemy slipped up behind him and shot him in the head.
Today, of course, all that has changed. While I am sure there are a few gamblers who still arm themselves with concealed weapons, there is sufficient security in a casino to protect all the customers. Shucks, I haven't carried a gun into a card room or casino for years. Or is that months?
I'm smiling. Let the games begin.