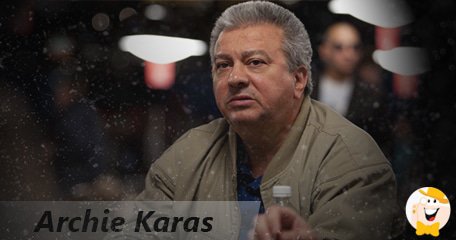 Archie Karas, the world's greatest gambler, is in jail.
He is being held in Clark County Detention Center in Las Vegas awaiting an extradition hearing that will send him to San Diego, CA. to face felony charges of marking cards. Karas is charged with stealing $8,000 from a casino in San Diego County.
What a comedown from a man who made the most incredible gambling run in the history of the world when he parlayed $50 into $40 million over a three-year period.
Before I tell you about Archie, the gambler, let me take you back to Greece where he was born. Archie was the son of a poor brutal construction worker. He grew up hungry and often had to gamble shooting marbles with friends in order to get enough money to eat.
When he turned 15, he got into a terrible argument with his father. The man threw a shovel at Archie that barely missed his head. He fled from the house and ran away from home, finding work as a waiter on a ship that was sailing to America.
He earned $60 a month plus tips. When the ship docked in Portland, OR., Archie hitched a ride to Los Angeles where he found work in a restaurant next to a bowling alley and pool hall. There over a period of time, he learned to hustle pool and played high stakes poker, winning over $2 million. Because of his wild passion for gambling, he didn't keep the money long, losing all of it except for $50.
Archie decided to move to Las Vegas and try his luck there.
In Las Vegas, he ran into one of his California gambling buddies and managed to borrow $10,000 from him. He used the loan to win $30,000, paid his friend $20,000 and took the $10,000 profit dto play pool against a millionaire. The stakes started at $1,l000 a game, moved quickly to $10,000 a game and Archie beat him for $1.2 million when they raised the stakes to $40,000 a game.
Now I was living in Las Vegas while Karas was on his winning streak. I had a job writing for Chuck DeRocco's Magazine and friends told me about Archie. They didn't know his name -- only that he was living in his car and was on one of the wildest winning streaks anyone had ever seen. I began looking for him when I was off duty but I never found him. I guess I didn't search hard enough.
Karas took his winnings and went to Binion's Horseshoe where over a three-month period, he upped his earnings to $7 million.
He took $5 million of his winnings, placed it on a poker table, and dared the world's top poker players to try to take it away from him.
They came, they tried and they failed.
The first loser was Stu 'The Kid' Ungar, a cocaine-sniffing genius at cards who wasn't afraid of anybody. Stu lost nearly $2 million to him. Then came Puggy Pearson, Johnny Moss, Chip Reese and even Doyle Brunson. They could not break the man's winning streak.
The table stakes were so high, some of the top Las Vegas players refused to play him. Johnny Chan decided to buck the tiger and managed to beat him for nearly $1 million. Archie said no problem and switched to dice.
Jack Binion accommodated him and raised the limits to $100,000 per throw. Karas kept winning and when he wanted to up the limits to $200,000, Binion nodded to the stick man and Alex kept defying the odds. After a while, Jack shook his head and lowered the maximum bet to $100,000.
In 1995 after his unprecedented winning streak, his luck turned. Over a three-week period, he lost $11 million shooting dice. He switched back to poker and Chip Reese beat him out of $2 million. Then he turned his attention to baccarat and lost $17 million.
Archie decided he needed a break. With $12 million still in his pockets, he returned to Greece for a much needed vacation. After recuperating there, he flew to Las Vegas, returned to the Horseshoe and lost everything except for $1 million.
He took that money and challenged Johnny Chan and Lyle Berman to a $1 million freeze out. Incredibly he beat them -- and lost his winnings shooting dice. The run had ended.
When a magazine writer interviewed him, Karas had no regrets about his life.
"Money means nothing to me," he said and meant it. "The things I want, money can't buy. Health, freedom, love and happiness. Since money has no meaning, I have no fear when I gamble."
As Alex Karas sits in his cell awaiting his extradition hearing, he faces up to three years in prison if he is convicted. You have to have sympathy for such a man. I personally hope he gets back in the saddle again. A man bigger than life deserves to live.