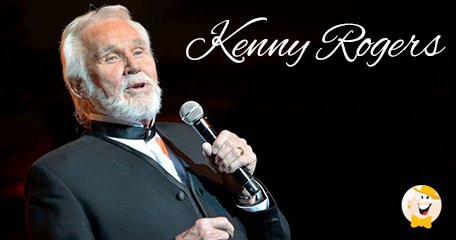 When a 23-year-old songwriter named Don Schlitz wrote a song called 'The Gambler' in August 1976, he had no idea he was creating the words to the most famous gambling song in history.
All Schlitz did know was that he had a song and he wanted somebody to record it. A little known country singer named Bobby Bare did record 'The Gambler' and it didn't go very far in the charts.
Schlitz made a recording of the tune himself with similar results. He offered it to Johnny Cash who was battling his own problems with drugs and for a while Cash turned it down. He later added it to one of his albums but the song went nowhere until a white-bearded singer with a raspy voice named Kenny Rogers made the record and the rest was history.
Now Rogers does not have a reputation as a gambler and neither does Johnny Cash. And yet the words of the song strike true to poker players and other people who buck the odds at cards and other gambling games. Schlitz apparently knew what elements went into a gambler's makeup when he penned those words.
I decided to break down the lyrics to 'The Gambler' for the edification of this website's members. Let's start with the beginning:
'On a warm summer's evening on a train bound for nowhere, I met up with the gambler, we were both too tired to sleep. So we took turns a starin' out the window at the darkness, the boredom overtook us and he began to speak.'
Now there is one word in this sequence that disturbs me.
Window.
Have you ever seen a freight train with a window in it? Nope. Neither have I. But that's just a minor flaw, so let's continue.
'He said, 'Son, I've made a life out of reading people's faces, knowing what the cards were by the way they held their eyes. So if you don't mind me sayin', I can see you're out of aces for a taste of your whiskey I'll give you some advice.'
Okay. The words of the song point out the importance of aces in a poker hand. Big deal. Aces are definitely important and often the difference between winning and losing.
'So I handed him my bottle and he drank down my last swallow, then he bummed a cigarette and asked me for a light. And the night got deathly quiet and his face lost all expression, he said 'If you're gonna play the game, boy, you gotta learn to play it right.'
For all you gamblers out there, this means learn the rules of the game. Don't get in over your head. Without knowing the rules, nobody can plan the right strategy.
'You got to know when to hold em, know when to fold em, know when to walk away and know when to run. You never count your money when you're sitting at the table, they'll be time enough for counting when the deal is done.'
There is the heart of poker -- knowing when to hold the cards and knowing when to fold them. Some players never learn this rule and it leads to their destruction at the table.
About not counting your money when you're sitting at the table, I'm not so sure. If you're in a pot limit or no-limit game, it sometimes pays to know how many chips you have. But let's go on.
'Every gambler knows that the secret to survival is knowing what to throw away and knowing what to keep, 'cause every hand's a winner and every hand's a loser, and the best that you can hope for is to die in your sleep.'
While this is a bit dramatic for taste, I know what the songwriter is getting at. Yes, every hand is either a loser or a winner, with most of the time the hand turning into a loser. And, yes, the secret to surviving as a poker player is knowing what to throw away and knowing what cards to keep.
'The Gambler' is quite a song and Kenny Rogers was smart to record it. Next time you sit down at a green felt table, remember the words. You'll be miles ahead of the game.