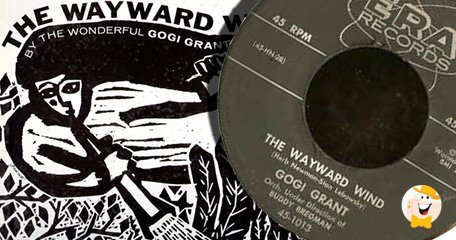 Back in the prime of my youth, a singer named Gogi Grant came out with a best-seller record called 'The Wayward Wind.' It quickly became one of my favorites because of its lyrics and restless beat that fit the soul of a gadabout journalist.
'Oh the wayward wind, is a restless wind...a restless wind, that yearns to wander...'
Gogi's rich melodious voice managed to carry the tune into millions of households around America and the recording guaranteed her success as a songstress.
Gamblers can't afford to neglect the wind. It plays an important part in their destinies. Hurricane Matthew is a good example.
Right now it's Friday, Oct. 7. The time is 1:30 p.m.
The skies in Charleston, S.C. where I presently make my home are cloudy but calm. To the south of us around Jacksonville, FL. and Savannah, GA., Hurricane Matthew is spewing up turmoil.
The ocean is seething with white waves. Palm trees and shrubbery are being uprooted by powerful winds and rain.
Best Bet Casino in Jacksonville has temporarily shut down its operations. Management plans to reopen Satirday if weather conditions permit.
I had been planning on competing in the casino's World Poker Open tournaments hosted by Mike Sexton but the hurricane interrupted those plans. You can't argue with a hurricane. The hurricane always wins.
And so I, like many of my fellow poker players, are forced to sit at home and wait until the wayward winds play themselves out. Although the governor of South Carolina put out a mandatory evacuation order, whatever that means, my daughter, grandchildren and I are staying put. I mean, what's a little wind and rain to a gadabout journalist who has interviewed Charles Manson, Audie Murphy, Johnny Cash and John Wayne. Not to mention Loretta Lynn.
I remember a gambling cruise to nowhere out of Hollywood, FL. on the Vegas Express. The boat carried around 350 gamblers on two decks and we pushed off out of the harbor at 7 p.m.
We got out six miles and entered international waters and started gambling. I was playing poker and shooting dice when the winds sprung up. A powerful tropical storm hit us.
A lot of people on board got seasick. I saw grandmothers holding paper bags to their mouths while pulling the handles on slot machines. Walking up and down the stairwell was a treacherous feat and some of the passengers didn't make it.
I kept playing.
A powerful wave suddenly hit the boat, nearly capsizing it! The wave was so strong it upended the heavy dice table from the floor, scattering chips, money and drinks in all directions.
A little old man in his 70s skidded to a stop at my feet. He looked up at me with a grin.
'I crapped out,' he said.
No, the wayward wind is a powerful force. I am spending these days quietly writing stories and doing a lot of thinking while praying, of course, for the winds to subside.
The television reports claim 600,000 people in Florida are without power. I hope the electricity outages don't affect us in Charleston, by one never knows when Mother Nature goes crazy. All we can do is hope, pray and keep the coffee on.
'Oh the wayward wind...is a restless wind...a restless wind...that yearns to wander...'
Sing it, Gogi. Sing the song and let the wind blow.