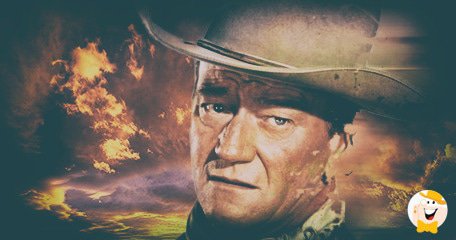 Sometimes I have trouble thinking up a title for one of my stories. Like this one.
I wanted to write about the gambling nature of John Wayne, his director John Ford, Jack Elam (the one-eyed villain who played in many movies starring Wayne and other cowboys of the purple sage).
Having met Wayne after he made 'The Alamo,' a movie he directed and starred in as Davy Crockett, I wanted to pay tribute to the Duke. As I researched the lives of these legends of the Silver Screen, I realized the title had to be 'Wake of The Wild Goose.' As you read the story, I think you'll realize why I arrived at this title.
John Ford directed Wayne in his first classic film, 'Stagecoach.' They became fast friends, drinking buddies and poker players.
As their friendship deepened, they added others to their group like Ward Bond who would later star in the television series 'Wagon Train,' Johnny Weismueller of 'Tarzan' fame, Jack Elam, Ben Johnson and stuntman Yakima Canutt.
Making movies is fun but it can also be boring when you're stuck oout in the middle of prairie country or the desert waiting to shoot a scene. When the stars weren't in the middle of a shoot, they would roast fresh beef over an open fire, drink, listen to music played on a piano, harmonica or guitar, or play poker.
In an interview, Ford said, 'We played poker with the wranglers, real cowboys, on the set. Stars in the western sky, good beef on the grill, music and a drink. We never talked film at night. It was off-limits. We just drank, talked, sang and played poker. It was part of the way we lived.'
Wayne was a good poker player. During an all-night session with the owner-trainer of Lassie, he actually won the collie star from a very inebriated owner -- and gave Lassie back the next morning.
When World War 2 ended and the peace treaty was signed, Japanese Emperor Hirohito asked to meet John Wayne who had starred in many war movies. He wanted to pay tribute to Wayne in respect for the spirit of the American soldier.
Director Ford organized a group he called 'The Young Men's Purity, Abstinence and Snooker Association.' It included all the fore mentioned actors along with Montgomery Clift, Maureen O'Hara and Dean Martin.
In 1963, Wayne purchased a 136-foot World War 2 minesweeper called 'The Wild Goose.' for $110,000. It became his sanctuary and club house. The vessel had a crew of eight, guest rooms, a wet bar and a poker table.
Martin and Wayne became friends and drinking buddies when they made 'The Sons of Katie Elder.' They played a lot of poker on the set and Dino became a regular guest on the Wild Goose.
Ward Bond was a hard-drinking man who loved to play practical jokes. Once he bet Wayne that he could stand on a newspaper and Wayne couldn't knock him down. Wayne accepted the bet.
Bond placed a newspaper beneath a door sill, got on the other side of the door and taunted Wayne, 'Okay, go ahead and hit me.' Whereupon Wayne smashed his fist through the door and knocked the startled actor for a loop.
In 1973, Wayne's wife, Pilar, left him. Wayne's health was failing and he spent his money recklessly, making many trips to Las Vegas to gamble. Friends watched one night when he lost $11,000 on a single roll of the dice in a Las Vegas casino.
Wayne loved poker and felt it played an important part in his life as a free American. He was suffering from cancer in 1976 when he shot his final movie, 'The Shootist,' in Carson City, NV. After finishing the film, a friend asked him how he wanted to be remembered.
Wayne cited a Spanish proverb and translated it for his friend: 'He was ugly, strong and had dignity.'