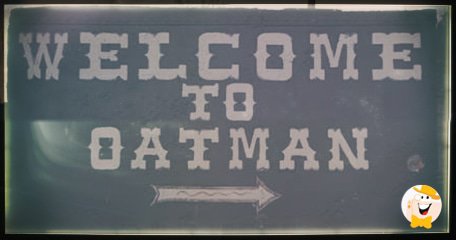 Like Tombstone, AZ, Oatman is a town too tough to die.
Tucked back in the gold-bearing mountains of Central Arizona, Oatman has a population of less than 300 citizens. It's a ghost town of sorts, a place that once was populated by gold seekers, gunslingers, society misfits and ordinary citizens just looking for a place to live.
Oatman is less than three blocks long. The clapboard buildings rattle in the wind and absorb the rays of the Arizona sun.
At night you can hear the sounds of a honkytonk piano mixed in with the wailing cries of a distant coyote.
The main street that runs through town will have parked cars with license plates from a dozen states. There will be wild burros from the desert, the offspring of animals used by long deceased gold prospectors who roamed the nearby hills seeking the precious yellow metal that drives some men mad.
On weekends, a group of 'bad men' armed with six-shooters and hopefully blanks will re-enact gunfights in front of the town's only hotel and saloons. They will fall dead in the street while wide-eyed children eat cotton candy and popcorn and their parents try to keep them in herd.
I love Oatman. It's my kind of town.
Oatman was where I met Charlie Stoll, a multi-millionaire who got rich on tungsten. Charlie lived in a lovely home about a half mile from the downtown area with his wife, Jane, a former secretary for Capitol Records in Hollywood, CA. He owned a private four-seater plane and an airstrip that was impossible for anybody except a skilled pilot like Charlie to land.
I met Charlie under unusual circumstances. He had been mischarged in an assault case filed against him by undercover agents for the Drug Enforcement Administration. They had been working undercover on a case and thought Charlie was a drug smuggler.
While I won't go into details of the case, I will tell you that Charlie Stoll was a patriotic American who knew nothing about drugs and who built Boy Scout camps. He introduced me to Oatman's leading citizens who owned businesses like the Oatman Hotel where Clark Gable and Carol Lombard spent their wedding night and Fast Fanny's Place where Gable played poker with other Otmanites.
Some of the town's older residents remembered Gable, a man they liked and respected.
"He never acted like a big shot or an actor," said one grizzled resident. "He'd just lean back in his chair, drink his whiskey and play cards. Win or lose, he was the same. Just a man enjoying life and living it to the hilt."
One night Charlie and Jane took me to a party given by a widow who lived a couple of miles from town. We drove along a narrow dirt road until we heard the sound of piano music in the distance. Charlie stopped his car and turned off the engine.
"Listen," he said, holding his finger to his lips.
In the distance we could hear a piano play. As my eyes got adjusted to the darkness, I could see a distant woman seated behind a piano on the porch of a two-story house. She played beautifully. I don't remember what the music was, only the moment.
"That's where the party is," said Charlie, smiling. He started up the engine and we went on to a memorable night in the upper desert.
At the party, Jane persuaded Charlie to tell me about an incident in Las Vegas when Charlie won a lot of money shooting dice.
"He doesn't want to hear about that," said Charlie, sipping a beer. I told him I did indeed want to hear about it so Charlie told his story.
He got lucky with the dice, won over $100,000 and called his mining partner Bob McKenna to join him for a weekend of fun. Then after renting a luxury suite at a resort hotel, he walked down Las Vegas Boulevard tearing $100 bills in half and offering them to the prettiest girls he could find.
When the girls asked, "What's that for?", Charlie said he was holding a 'Miss Nude Las Vegas' contest and the girl could have the other half of the bill if she showed up at his suite. He added that the winner would be paid $1,000 and the runner-up would receive $500.
A total of 35 girls showed up for the party, which lasted two days.
"I filled up the bathtub with the best wines and liquors," Charlie remembered, smiling. He glanced admiringly at his wife. "That was before I met Jane, of course. I was a bachelor like my friend Bob and we were free to do what we wanted."
Charlie owned an old house that was once used by a mining superintendent. It was only a couple of blocks from Fast Fanny's Place and he let me and my family stay there while I researched the story about the DEA.
I watched the Arizona sunset from the porch of the house and it was spectacular. The nights were so clear you could see falling stars plunge from the Milky Way.
If you ever have the chance to visit Arizona, make a side trip to Oatman. You are permitted to feed the burros, but don't try to ride them. They're still part of the old west and like Oatman and its folks, they're still wild.