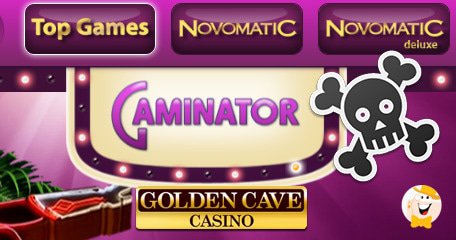 When we discovered fake software at Golden Cave Casino, we were quite frankly not surprised in the least, because the 'license' under which they operate is issued by Costa Rica. It's been mentioned before, but we will say it again - there is NO such thing as Costa Rica Gaming License. There are no official, legally structured systems governing online gaming in Costa Rica, which naturally means that any online casino operating under this group can only be branded as an unregulated and unlicensed company that is not to be trusted.
Furthermore, just looking at their site makes one feel very suspicious, thinking there must be something fishy here if they can't get their English right. The primary language is Russian, but the English translation is very poor and looks an awful lot like a Google translate product. A serious, respectable company will at least hire someone competent to create foreign language versions, how much can it really cost anyway?
Now onto the fake games. We have uncovered proof that Golden Cave Casino offers players pirated versions of Aristocrat, Novomatic and EGT games hosted on a Russian pirated domain https://demo.gaminator2.com/. An interesting fact here is that, for once, we are able to see the other end of these games - what we found was in fact a colorful looking site full of counterfeit software from various different providers.
Below you can see the screenshots showing one fake game for each of the featured software - EGT's Burning Hot, Novomatic's Book of Ra and Aristocrat's 50 Dragons. Doubtfully players will be able to spot the differences between the genuine and fake versions, but we will tell you what to look out for. Aside from the fake domain, launchers are usually the first thing that can point to a forgery, and the next would be the user-interface with different sets of buttons, unresponsive or missing buttons.
Here is how the original Aristocrat's 50 Dragon design and launcher look like:
And these are the pirated game and launcher:
Book of Ra from Novomatic - a comparison between the genuine game and a lookalike:
Finally we have the Burning Hot slot by EGT - the fake version is shown with a fake domain and different looking betting options layout:
Other online casinos allegedly supervised by Costa Rica - OPERIA COSTA RICA SOCIEDAD DE RESPONSABILIDAD LIMITADA, are Pamper, BetDNA, Moneystorm and AC Casino, some of which LCB has already reported about recently. These are all part of the same group and known for pirated software, delayed payouts and unresponsive customer support. Be careful where you deposit money, LCB'ers, do your homework, read our reviews and always exercise caution - if you suspect foul play, you can always browse through our reports or our free games for comparison.