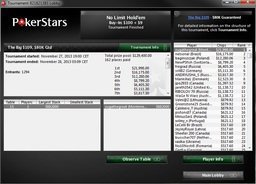 What could be better than winning a massive $22,000 Jackpot? We say having it be from our very own LCB community! Zuga, the LCB admin rocked our forum with the fantastic story of his incredible win at PokerStars. It was a NL Texas Hold'em Tournament with a buy-in of $109. There was nearly 1,300 entrants without add-on's and re-buys available. Zuga managed to hold his own for the most part during the 8 hour long Tournament. At one point he was in second position holding AA and got robbed against the short stack that held 99 dropping him back to about 8th position. Here is what Zuga had to say once he reached the final table: "
Suffice to say i won a few big pots and by the time the final table kicked in i was holding a strong 5th place with over 350,000 in chips. The chip leader had over 700,000, and there were two short stacked players with under 100,000 in chips." "The final table begun as expected, with everyone playing tight. I managed to knock out two short stacks and steal several blinds and antes, which resulted in me soon being the chip leader." "By that time there was 4 of us left, with me in the lead and Brazilian player close by. I was sticking to my game, trying to steal the blinds where I could ( but never with rubbish hands ) and finally with two good hands I knocked out the 2 short stack and it was a time for the heads up game." "The heads up game i entered almost as 2:1 in chip lead. Only at one point Brazilian managed to come to 200,000 chips in difference." "My winning hand was 92 where I hit the two pairs, 2 on the flop and 9 on the turn.
" It was an incredible journey and amazing that a 92 off suit hand took all the chips and put him in first place. Zuga joined PokerStars about three years ago and is by far his greatest feat. We asked him what plans he had with his staggering windfall and he is going to put it to good use towards buying a new home. Having the pleasure to know Zuga, we can certainly say that it couldn't happen to a better person. Let it be a reminder that when you have a heart of gold like he does, it comes right back at you in spades, well, in his case a 92 off suit! Congrats to a gentleman, champion Poker player and our fierce leader at the LCB network.