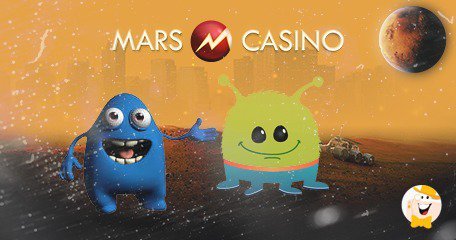 LCB sits down with Emily Barton, manager of the first casino on Mars, Martian-Human relations expert and Alien community on Earth organizer.
1. So 7BitCasino has a new sister, tell us about the space odyssey toward launching Mars Casino including the inspiration behind the look and feel.
We are very excited to finally launch Mars Casino. The idea to create a cosmic-themed casino has been on our minds for some time now and finally we all agreed that this idea should come to life and no one can do it better than us. Together with the announcement of Mars One mission, we wanted to share our vision of the first extraterrestrial gambling place. We have put a lot of hard work in order to achieve a simple yet interactive design. Moreover, we decided to change the approach towards customer support by adding role-play based on the characters from the sci-fi fictional universes.
2. How do they compare to one another in terms of platform and promotions?
Even though 7BitCasino and Mars are using the same software providers, we wanted these two brands to be completely different. 7Bit casino is more of a classic casino brand, when Mars is more playful and filled with all sorts of Easter eggs and puns. As for the promotions, on 7Bit we have experimented with the different kind of bonuses like Free spins, free chips and different cashbacks to figure out what players love the most. We will use this experience to offer the best value bonuses for Mars Casino players. Traditionally, loyal players can expect exclusively designed bonus programs to fit their gaming behavior in the best way.
3. How many software providers contribute to your game selection and are there any plans to add more?
Oh, we have a lot of them. Netent, Betsoft, Endorphina, Softswiss, Amatic, iSoftBet, Ezugi, these are the major ones. We also do have games from smaller game providers that are offered through Quickfire. At this moment we have more than 1000 games to choose from, but we still have room to add more in the future. We want our web-sites to be universal. There are players out there who love only roulette games, there are slot lovers and finally there are players who prefer playing cards. Our aim is to become the casino of interest for all of them at the same time.
4. Apart from the cashback loyalty bonus, is there a rewards program?
Besides our cashbacks, we do offer free spins and loyalty free chips, but there is no single template here. We train our support to find the approach to every customer so that each bonus given will fit player's preferences. We also have different giveaway promotions when we offer free spins for logging in, achieving milestones and/or new games trial.
5. With both brands accepting Bitcoin, did the recent hack of Bitfinex have any effect on your operations or players' use of the cryptocurrency?
We were overwhelmed with the news about Bitfinex, so we were expecting our Bitcoin segment to shrink a bit, but in fact, the outcome was quite the opposite. The exchange rate of bitcoins decreased by $100, allowing players to buy more bitcoins for less money. Long-term bitcoin users are often used to rate bounces. However, we've added more security measures to our regular workflow as well as our payment providers working with Bitcoin currency.
6. Tell us something you think readers really should know about your new brand.
In Mars casino, we wanted to step away from the "regular" customer support to make it interesting both for players and agents. Each agent is an expert when it comes to the character he represents, so in case you want to play a Trivia game about Guardians of the Galaxy or Futurama, Mars casino is the right place.
7. According to the 'About Us' section, Mars is a "Casino for humans by martians". As a martian yourself, which characteristics of the average gambler are most interesting to you?
We discovered that humans are the most interesting creatures in our solar system – we want to see real people's joy and happiness and this is what our team is aimed to achieve every solar day.
8. If men really are from Mars, name three actors you would hope to be stranded there with.
Actors are meant to act, but when it comes to living on Mars, you want to have someone tough around. We would consider signing a contract with Bear Grills to do the Ultimate Mars Survival series. As for the other two, Matt Damon and Sigourney Weaver would fit our lovely planet the best way.