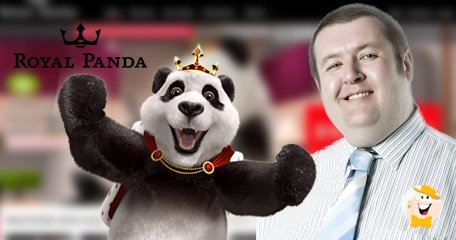 I'm Mark, and I'm the CEO of Royal Panda! I've been with the company for a couple of years now, having previously worked in the affiliate sector, and (going slightly further back) the videogame industry before that. I spend my days now helping to ensure that our online casino is every bit as awesome as it can be, to ensure that all of our players have a royal good time every time they log in and play!
1. Pandas are cute, cuddly, nonthreatening creatures and are often viewed as symbols of good luck but they're not the most energetic animals in the world. Where did the concept of a Royal Panda reigning over an electrifying online casino begin for you?
Mark Podd: One of the things we realized from the outset is that in a market as competitive as online casino, you need a brand that stands out. And thus the "royal panda" concept was born. Pandas (as you rightly point out) are frequently associated with fun and good luck, while royalty is generally associated with luxury – two qualities you'd readily associate with casino.
And of course, that core concept also gave us the scope to have a mascot of our own, and that's a powerful thing in marketing terms. If you look at everything from the Michelin Man, to Nintendo's Super Mario character, those characters
And of course, that concept also gave us the scope to have a mascot. And that's a great thing to have from a brand awareness point of view – if you look at everything from the Michelin Man, to Nintendo's Super Mario, whenever you see these characters, they become synonymous with the brands they represent. That being said: such mascots have to be well designed and managed, of course. Which is why we enlisted the help of a really talented artist to oversee our panda, design the artwork he features in, and suchlike. And because he really gets what we're about as an online casino, it all works really rather well.
Also, did you know that – contrary to their image of sitting there, eating bamboo all day – pandas can be surprisingly energetic and playful? In fact, they're actually pretty good at climbing trees!
2. Site design is important to players – and they seem to like your current look – so what do you think has been most successful at capturing the attention of players?
Mark Podd: To be honest, it's actually very difficult to single out individual elements of the design, because it spans so many different page types, which each have their own objectives. But hopefully that gives you a good impression as to the lengths we go to, to get these things right.
Initially, your starting point is really knowing who your target customers are and understanding their demands and requirements. Once you've done that, you can then set about positioning the elements that are going to be most relevant to their interests, and working on things such as the styling and message to draw attention to them and ensure players 'get' what's going on – things like that.
It's an ongoing and very in-depth process, but when you look at how much detail goes into things like our artwork, or the ability to have four games running at once, or even the quick-deposit options, it really underlines just how important it is to tie it all in together. And of course, it's great when you see all of that hard work being rewarded whenever you hear how happy players are with it.
3. One question that has been on the mind of our members is whether or not your bonuses are beatable. What sort of players are your bonuses best suited for and do you believe they attract the 'advantage player'?
Mark Podd: The bonus is definitely beatable! The way our wagering requirement is structured is that you need to place bets equivalent to 35 times the initial bonus amount you received, using money you've deposited (what we call your "cash balance", which is also your withdrawable funds). And to make sure that's fair, you start playing with your cash balance first, and only switch to your bonus balance once your cash balance becomes depleted.
Furthermore, any winnings won are added to the balance you're playing with at the time, and the money in your cash balance is the money you can withdraw.
It's a bit of a departure from what other casinos offer, but the idea is to create a bonus that is fair and flexible. So let's say you deposit $100, claim your $100 welcome bonus, play Twin Spin, and win $7,500 on your second spin. Well, because you'd still be playing with your cash balance at that point, your $7,500 winnings will be added straight to your cash balance, meaning it's withdrawable straight away.
Or, let's say you play through your cash balance, switch to playing with your bonus balance, and win $7,500 with that. Because you're playing with your bonus balance, your $7,500 winnings will be added to that – so you'll need to meet the wagering requirement to be able to withdraw your winnings. But because the wagering requirement is based on the initial bonus amount you received – $100 – the wagering requirement would be 35x$100 – so it's well worth redepositing and playing on with your newly topped-up cash balance until you've met it.
Like I say, it is different to the way a lot of our competitors have their bonuses set up, and that can initially confuse players used to such systems. But once people get their heads around it, they usually warm to it pretty quickly.
What I'd suggest is to read the explanation we have on the website, or contact our customer service team, who are all experts at explaining it!
4. Our goal here at LCB is to bring more value to the player and with all the casino competition out there it's important for them to know what they get for being loyal to you. Where is the value in Royal Panda membership?
Mark Podd: From the outset, strong player retention has been one of our main objectives – and value for money is obviously a huge part of that. Our Loyal Panda Points are the most obvious example of this, where you earn points which can be redeemed in our shop, ranging from top-of-the-line iPads, to free spins and no-deposit bonuses.
We also have our multi-tiered VIP membership program, which players are enrolled automatically into the moment they join us. This again rewards you based on the amount you play, with each of the four levels offering different perks and rewards.
But we also try to make things interesting straight from the off, for players of all levels. There's our welcome bonus, offering 100% up to $100 on your first deposit. And each Friday there's our Bamboo Bonus, offering 50% up to $150 on a deposit of your choosing.
We frequently reward our loyal players with free spins for new games, and ensure the vast majority of our promotions are available to new and existing players alike.
5.Your partnership with NYX Gaming for its OGS was announced almost one year ago and a selection of games recently went live for the UK market. What is the integration process like and did you expect delays?
Mark Podd: Firstly, I'd just like to say that NYX's games are available to our players all over the world now, and have been for several months! Like any integration of this kind, it's always tricky to get different systems and platforms talking to each other properly. And of course, you have staff to train up, inter-company working relationships to build, licensing and regulatory requirements to fulfill, etc. So these things are never as straightforward as your mind would like you to believe.
But we're glad it's all up and running now, and that all of our players (whether in the UK or elsewhere) can enjoy NYX's great games lineup at Royal Panda!
6. Since Net Entertainment also provides a live casino solution and you had an existing relationship there, what was the deciding factor in choosing Evolution Gaming's live dealer games?
Mark Podd: Evolution is the world leader in live casino, and that shines through in the live games it offers.
In fact, our relationship with Evolution goes even deeper than just the standard set of games. We've recently launched our own, exclusive Royal Panda Live Roulette and Royal Panda Live Blackjack tables, in conjunction with Evolution, which offer not just faithful gameplay and professional dealers, but also some of the highest table limits around.
This has become a very important part of our relationship with Evolution, because it's the only company that was able to offer that all-important blend of uptime, flexibility, quality and professionalism necessary to pull off such a project. And suffice to say, we're very pleased with the results so far.
7.Considering all the markets you serve, are there any plans to extend support hours?
Mark Podd: We extended our opening hours not too long ago, and it's something we review regularly. Obviously, you need to strike a blend between availability and quality, which means not just having the right numbers of people, but also ensuring they have the right mentality, temperament and training.
As of right now, we don't have any concrete plans to further extend the hours – but like I say, we do review it regularly.
8. Trends definitely contribute to games themes so, in your opinion, what's the coolest idea you've ever seen brought to life on the reels of a slot?
Mark Podd: There's quite a lot to choose from, as you can imagine. But I think the trend that's really impressed me lately is the NetEnt Rocks trilogy of slots, and the manner in which Hendrix, Guns N' Roses and Motörhead have been incorporated into the slot to make it not just a game, but an experience as well.
This is actually a great thing to do, because not only do existing casino fans find it appealing, they're also gateways for new players – who perhaps aren't traditional casino fans – to come in and see if they like it too.