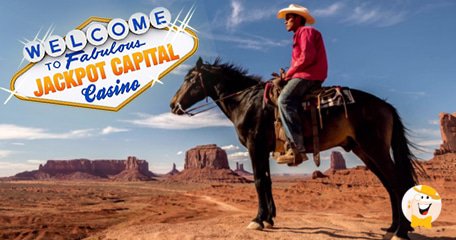 A $25,000 win in a single spin has one Jackpot Capital Casino player kicking his heels together as he plans to live out his cowboy dreams in Montana. To say 37-year-old Chris F. was in the midst of a lucky streak on RTG's Regal Riches would be an understatement.

Chris' games of choice were Golden Bread and Crystal Waters but following some advice from a VIP customer service representative, he decided it was time for a change.

As a single guy with no ties to a wife or children, Chris is free to pursue his lifelong dream of venturing out west to the state of Montana.

"I've never been out west," he told a customer service agent. "I've been dreaming about it since I was a kid, though. Now's my chance -- I'm going to Montana to release my inner cowboy!"

"Chris has been playing with us for a long time," said casino manager Oliver Smith. "So we're thrilled about his recent windfall and hope he has fun on his trip to the wild west!"

With a bit of experience under his belt, "I would say if you're on a losing streak you should either quit or try another game. Don't chase a win", advises Chris.

There's still time to participate in the $210,000 Air Jackpot casino bonus event running through the end of the month. Play every week to claim weekly bonuses worth up to $800.