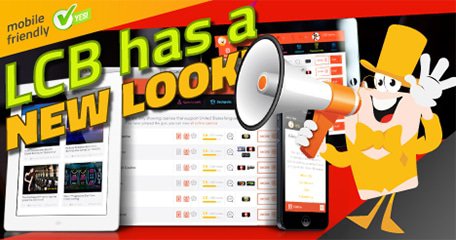 After over a year and half of hard work, dedication and determination to make our vision a reality, the new LCB site is finally up and running. It was quite a challenge, but we made it having your needs in mind all throughout the process. Our goal was to keep everything you loved about us and make it more functional, easier to get around and better looking as well - a place you'll want to visit to improve you gaming experience and enjoy a wonderful community.
While the site looks different, we can assure you that everything you loved about us is still here. There have been improvements made with regards to inner structure and overall performance, and especially in terms of Casino and Bonuses sections we have implemented to gather all important info in a single location, with elaborate search filters so you can customize your search according to your preference.
The forum is still arranged in exactly the same way, it only has a new design where the colors and fonts are different and managing posts is made easier.
We have also added Guides, Jackpots, News and Tournaments tabs to the Main Menu. This way, you won't have to search all over the place to find the answers you need about LCB itself, casinos, bonuses and other important elements of gaming. Those interested in jackpots can now track the statistics of every individual progressive - how much they peak for and payout on average and all current values. As for the News, you'll find them up to date as they always were, except the section now includes editorials and interviews in the same place. Casino Tournaments are monitored to keep you informed about starting dates, entry fees and prizes.
Since the site has only been live for a short time, some bugs and problems are bound to occur. It will take a bit of time to iron everything out and make it as smooth and sleek as it should be. We understand a change is never easy, and some members might find it difficult to adjust to this new design, but we can assure you it has been made to outshine the old one and that is what we intend to accomplish. All we ask is a little patience on your part, until everything settles down.
For this purpose, we have created a thread on the forums where you can report any bug or inconvenience you may have encountered so far. Even if your post does not get a written acknowledgement, it doesn't mean it has been disregarded - we saw it and are working on it. We need your feedback and that is precisely why the thread exists - but there is an order of priority we must follow, some things are more urgent than others.
Thank you for your patience and understanding. After everything has been said and done, we are sure you'll be very happy with our new design.