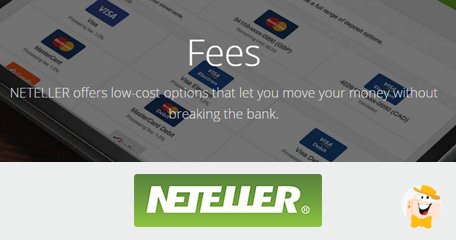 Neteller customers received a nasty little surprise in their inboxes this week as the payment services provider announced an increase to its fee structure, which will be effective in October.

The last time we saw a major change in Neteller fees was in May when they did away with the flat fee for cash withdrawals using the NET+ Prepaid MasterCard and implemented a 1.75% charge based on the total amount of your ATM withdrawal. While the 3.39% foreign exchange fee remained unaffected, the year will not close without a spike in the charge for conducting foreign transactions, money transfers and Skrill deposits.

The instant Money Transfer service is marketed to encourage customers to send money to anyone even if they don't have a Neteller account….yet. The truth is that the recipient must open a Neteller account in order to receive the money. If you choose to utilize this service then it is important to note that the fee for transferring money will nearly double from 1% to 1.9% with a $20 cap.

The next change will affect all transactions involving currency conversion. The foreign transaction fee will go from 3.39% to 3.99 affecting your card purchases and ATM withdrawals when traveling or even online purchases from sites that do not process payments using your local currency.

Finally, the current 1.9% fee for funding your Neteller account using Skrill will also go up with a significant jump to 3%.

All fee increases will become effective on October 17th. VIP membership will help to reduce some of these fees; however customers must meet certain spending thresholds for eligibility. VIP levels begin with a $10,000 spend per year for the lowest level of Bronze all the way up to a $2 million spend to reach Diamond membership offering a major reduction in certain fee percentages.