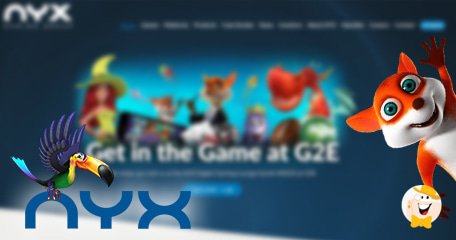 Two new individuals will be joining the NYX Gaming Group executive team, taking on the roles of chief operating officer, and chief financial officer, effective immediately. With this move, the company hopes to strengthen its capabilities as a team, as well as promote growth among regulated markets across the globe.
The recent appointments will also mean some rearranging for the company, with the previous COO becoming executive vice president of systems, and the former CFO becoming executive vice president of finance. Obtaining the role of chief strategy officer will be former chief corporate development and marketing officer, Huw Thomas.
Jason Walbridge will be assuming the COO position, and he joins the team after an 18-year run with Aristocrat, during which time he worked as chief supply officer. Before this, he served as managing director of the EMEA division, covering Europe, the Middle East, and Africa.
Taking on the CFO position is Eric Matejevich, whose new role will include heading the finance division. Prior to this appointment, Matejevich held executive positions at Atlantic Club Casino, Merrill Lynch, and Resorts International, while also serving on the NYX board. As of now, he has resigned from his position on the board, to dedicate full efforts to his latest appointment.
According to NYX Gaming CEO, Matt Davey, "Everything we do is focused on quality products with speed to market and deployment across all channels. As we continue to experience rapid growth we have appointed Jason Wallbridge to drive the group operating strategy across our content, systems and business development divisions."
Davey continued, "Both of these appointments strengthen our execution capabilities and support the excellent foundations we have built to deliver world-class products and services to our customers in regulated markets. Eric and Jason join us at a very exciting period of growth and I'd like to welcome them both to the team."
Walbridge commented, "Matt and the executive team have made important breakthroughs to establish a leading position in the supply of gaming content and technology in regulated markets. They have set the bar high with their vision and ambition and I'm looking forward to working with them to build out additional execution capabilities across their group operation."
Matejevich also released a statement regarding his new role: "I join the group with a deep understanding of the core strengths and capabilities of the business. NYX has built its multi-product, diversified business through high profile acquisitions and the recent Q2 results demonstrate that the industrial logic behind the acquisitions is already bearing fruit. I look forward to working with Matt and the talented teams across the business to deliver the next phase of growth."
Source: "NYX Gaming Group Strengthens Execution Capabilities With Key Executive Appointments" NYX Gaming Group. September 14, 2016.