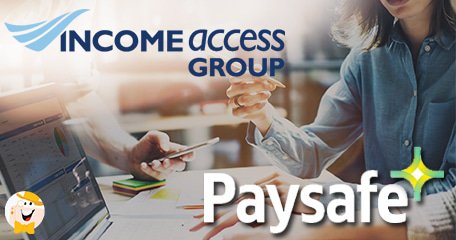 On September 1, 2016 worldwide payment services provider and owner of Neteller and Skrill, Paysafe, announced its acquisition of Canadian affiliate technology company, the Income Access Group, for a CAD$40m price tag.
This is good news for affiliates using Paysafe payment methods to receive commission payments. It will make things much more convenient to work with affiliate account managers that have access to your Neteller and Skrill accounts. It would actually be smart for them to require affiliates to use one of their products to receive payments, which is a move we may see them make in the near future.
Who is Income Access?
Income Access is responsible for the web based affiliate tracking and reporting solution used by over 25,000 affiliates to monitor progress with marketing programs. More than 200 of these programs are dedicated to the gaming related industry including gambling brands like Bet Victor, Caesars Interactive, Jackpotjoy and Sky Betting, to name a few. Established in 2002, the company's headquarters are located in Montreal and has since expanded to house employees in offices in Vancouver, Brisbane and London.
More on Paysafe
If you have accounts with Neteller, Skrill or even hold a Paysafecard, then you are familiar with the services they provide. The company specializes in digital payment methods like e-wallets as well as the issuance of card products and acquiring of transactions on behalf of merchants. Its reach extends beyond 200 countries and 40 different currencies. Additional brands include FANS Entertainment, MeritCard and payolution.
Financial Details of the Sale
Let's first begin with the players involved. Paysafe subsidiaries acquired Income Access and its network from the companies and shareholders of EcomAccess, IA Digital Marketing and Share Results. The CAD$40m contract will be paid as follows, according to Paysafe:
"CAD$28m of the purchase price is payable in cash on completion. The deferred consideration balance of CAD$12m will be payable to the vendors in three equal instalments of CAD$4m over the 18-month period following completion.
"The book value of gross assets acquired is approximately CAD$2m. The excess of the purchase price is expected to be allocated to software, customer assets and goodwill. The fair value assessment of the acquired assets has not yet been finalised as of the date of this release. In the last fiscal year to 31 March 2016 of Income Access, the business generated approximately CAD$3.3m of profit before income taxes."
Commenting on the purchase, Joel Leonoff, Paysafe President and Chief Executive Officer, said, "By adding Income Access's affiliate technology to our product suite alongside our Skrill and NETELLER brands and deepening our merchant relationships, this transaction delivers on Paysafe's strategic objectives to provide relevant payment solutions that serve the evolving needs of our merchants.
"Income Access is an excellent fit for our business. This acquisition will help to extend our leadership position in niche-orientated payment solutions as we add value for our merchants and redefine the role of a payments provider."
Lorenzo Pellegrino, divisional CEO at Paysafe overseeing Skrill and Neteller, commented, "We are always looking to enhance the breadth of our product offering. By integrating Income Access's industry-leading expertise within our business, we both expand our global affiliate network and embed our payment capabilities more deeply into the merchants we work with."
Nicky Senyard, Income Access Founder and CEO, who will also remain on board in this role, added, "Our technology and global affiliate network, combined with Paysafe's comprehensive payments offering, creates a winning combination for the benefit of our existing and new partners."