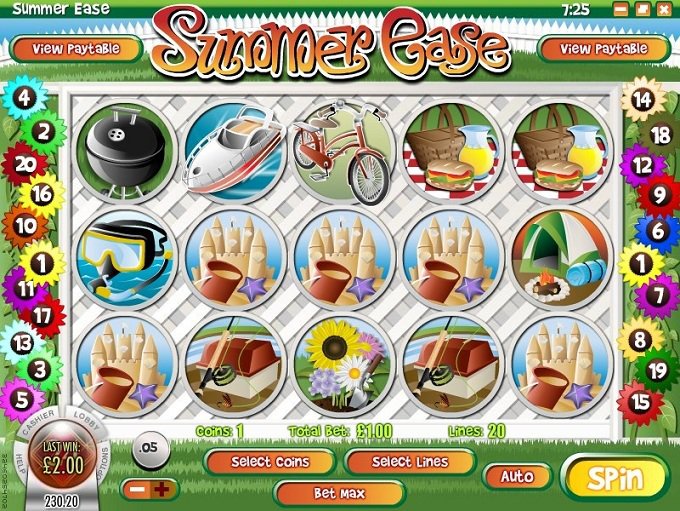 If I am going to play at any Rival powered online casino it's going to be Box24. The customer service is good and they have an overall better reputation than many other rivals. I was just about to deposit until I saw a Free Play offer in the cashier. I wanted to play the new slot game Summer Ease so I redeemed the offer and went on my way.
The theme of this slot game is all things summer. Grills, sand castles, boats, camping bring that summer time feel to the reels. The graphics are cute and very relaxing like lying in a hammock on a summer afternoon. I can't help but think of my days as a little brat with a head full of curls swinging toward the clouds in my back yard. For me, it ends there. I'll play just about any slot game in existence but this has got to be one of the more boring slots. It lacks any bells and whistles. The free spins occur when 3 or more bicycles land on the reels. If you blink you'll miss it. If you turn for a moment, you barely realize you're in the midst of free spins. There is a bonus game which involves a speed boat dodging buoys. I didn't have the pleasure of hitting the bonus. It would've come in handy since I desperately needed some excitement.
I like the 3 reel slot games that Rival has to offer. I normally play those when I'm in the mood. There are no expectations as you have may have with video slots. I'll play through my bonus on Surf Paradise.
The dog days of summer have lulled me to sleep but lucky for me surf's up.
Froggy