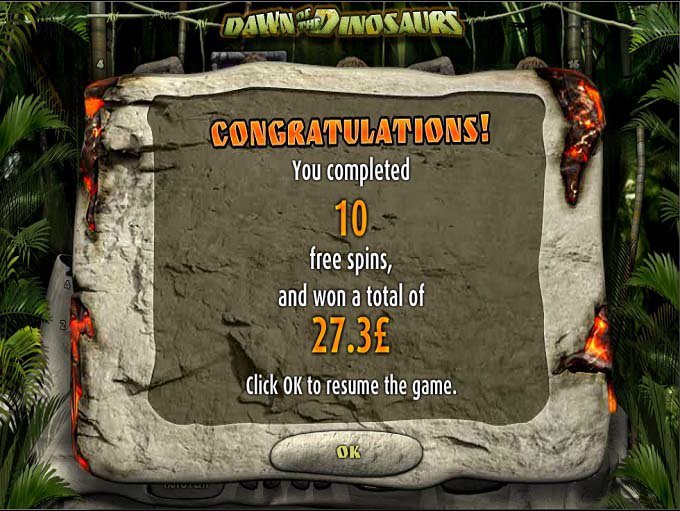 I've always been fascinated by the history of the earth especially the age of the dinosaurs. I can't get my head around how an entire species was wiped out but I do know one thing. The dinosaurs live on in Random Logic's Dawn of the Dinosaurs slot game. I went back in time at 888 Casino.
I set my bet at £1.25 and got off to a very slow start. Nothing exciting was happening but there certainly are some exciting features in Dawn of the Dinosaurs. Once four fireball symbols are collected you get a series of free spins. I collected two right away but then nothing for a while. Suddenly I got the remaining two that I needed back to back. I was presented with four options and I chose 10 free spins with a 3x multiplier. I wondered if it was the right choice but I added £27.30 to my balance.
After my free spins I felt like I as being penalized. The payouts were bad, really bad. If you get a symbol with a T-Rex and an egg, the egg counts as a substitute symbols for the next time you get two T-Rex symbols. If I'm honest, I didn't really find that this slot game was very interesting nor did justice to the magical age of the dinosaurs. My bankroll wasn't completely gone but I couldn't bear to take another spin.
When it comes to the dinosaurs, I think I'll stick to the Discovery Channel.
Froggy