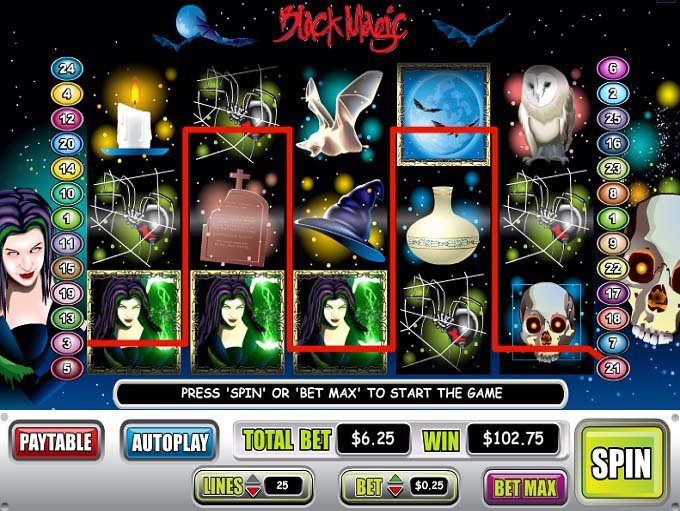 With Halloween behind me I wasn't quite ready to give up on the creepy slot games yet. While looking through the list of games at Liberty Slots, I spotted Black Magic. The symbols are spiders, eerie owls, white bats, snakes, skulls, graves, witches hats and more. It seemed to have just the right amount of the creep factor for me.
The slot game loaded and I began and I was feeling like taking a bit of a risk with a wager $6.25. It was definitely scary to see that the payouts barely covered my bet. There is a bonus game that triggered when three or more scattered moons appeared on the reels so I still had hope that things could improve.
On more than one occasion I got two bonus symbols which was a doubled scatter pay of my $6.25 bet. I saw quite a few black widow spiders on my screen and I'm terrified of spiders especially poisonous ones. There was so little happening on the reels in terms of wins that I sat and thought about the spiders for a while.
My distraction was short lived because I got my head back in the game when I hit the bonus! The Black Magic feature presented me with 6 crystals. I selected one and the game was over. I don't think I got more than $12. I was super mad because it took forever to trigger. I contemplated quitting after that but I took another spins and I'm glad I did. I hit over $100 with three wilds in row giving me multiple winning combinations.
I considered myself lucky and decided I had dabbled in Black Magic long enough.
Froggy