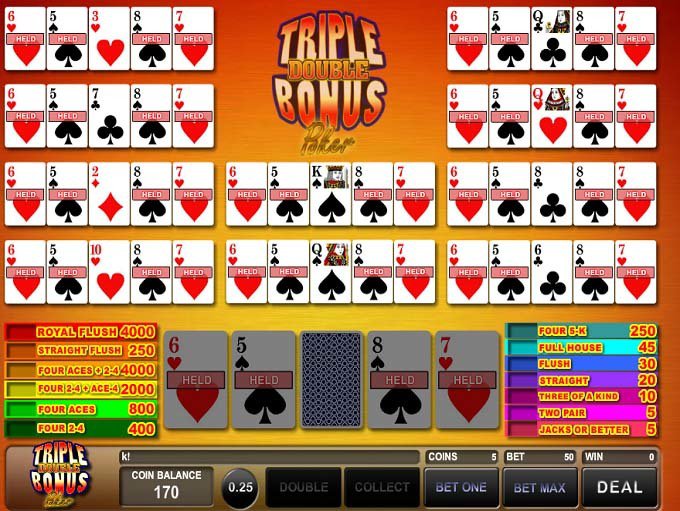 When it comes to land based casinos, I have totally eliminated slots from my play and have replaced them with video poker. I have had some decent wins more often than I ever have on slots. I was looking at the games selection at WizBet and noticed Triple Double Bonus Poker in 10 play. I knew what I'd be playing that afternoon.
The denomination was $0.25 and to play all 10 hands cost $12.50. It's steep and can go fast at times. I was dealt 9, 10, J and Q. I held them all and out of 10 hands I got two straights. It always amazes me how you can be dealt four cards and need one to complete the hand and not get it yet you can hold one ace and get 4 with the kicker. Not long after, I was dealt 5, 6, 7 and 8 and didn't get one straight. It ticked me off so much I decided to use that screen shot just to show you how annoying it was.
I could barely even get a three of a kind. This version of video poker, Triple Double Bonus, has high payouts so if you hit something you really win big. I had blown through tons of credits. I debated on whether or not I should try again but that was not happening after I was dealt four to the royal and couldn't get it.
My blood pressure couldn't take anymore. I needed some cool off time!
Froggy