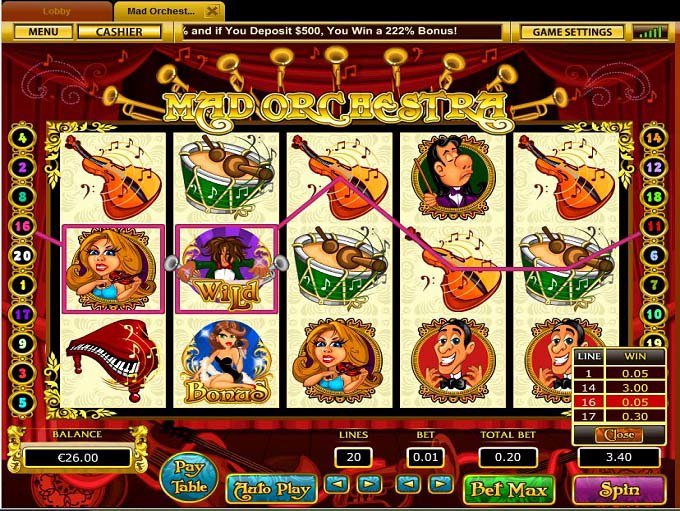 There is no doubt that we are living in stressful and turbulent times; it's enough to turn on your TV and be afraid. We definitively live in increasingly fearful culture; it seems we should be afraid of everything and everyone; although I am sure that actually fear is out biggest enemy. People, generally, prefer to take the safety path and fail to speak up about the issues that are weighing them down.
Sometimes I don't feel like taking risks and when that happens, I usually play Top Game slots; I have never won big on this slots, but I have not lost much either. I went to 7 Spins Casino, made a deposit of €25, started spinning hoping for the best.
"Mad Orchestra" is a funny and entertaining slot. In the first few spins I was very good at getting empty spins. Luckily for me, that had changed and with a series of good spins I got to €28. Unfortunately, after that the slot went cold on me; it was terrible – I wasn't able to trigger any feature. I was disappointed, so I looked for other slots. Nothing seemed interesting at that moment so I opened the "Witches Cauldron" slot. In the second spin I triggered seven free spins, but won pathetic €0.83. I thought it couldn't get worse than that, but it could… of course, it could. Only a minute later I got free spins again and this time I won… €0.23! My first thought was "This can't be right!" But it can, of course it can.
I felt tired, irritated, and bored because nothing good was happening. I guess this wasn't the right time for me to play these slots; I needed ones that could pump up my adrenaline. Next time I will be more careful about that.
Markotik