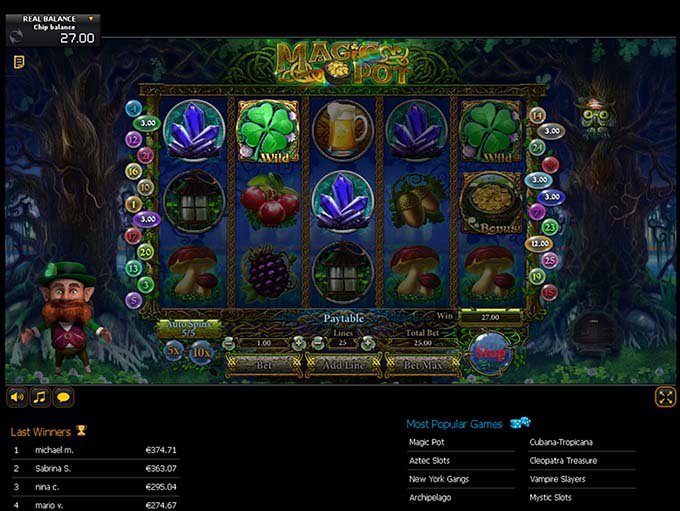 Can't help it but always look for new places to play Slots, so it was no surprise that I stumbled on to GrandWild, one of the places that I have heard before, but never had the chance to give it a spin (so to say ;). This casino is a great example of how things generally should work out: Nice and modern layout, user friendly interface, and even a mobile site version for smartphone and tablet fans. Not too much graphics on the front page, and a nice list of games you can play. I always like to try before I buy, and although not all the casinos give you that opportunity, but this one does.
One of the simplest and fastest registrations that I had so far, I had a new account in under a minute. Do note that you need a 25SIGNUP code to get the $25 no deposit bonus.
Happy to get my bonus in under 5s since the registration (just hit the refresh button on the top of the page), I went to get my dose of Magic Pots. It looks nice, decent animations, and frankly, I really like the whole Irish-Magic theme.
Well, maybe next time I should think about some strategy before hitting the spin button, since I wanted to make the most out of it by betting on maximum lines. Actually, that worked for a few minutes making me a nice little sum right there from the start, and then I went down the hill in under one minute. That should teach me to learn when to stop. I have a nice score with Magic Pot in general, but this time, the gold was just not mine to take.
I will keep trying and be coming back to GrandWild, since they seem to run a nice casino, friendly atmosphere and I hope a fast payout.
Lootva