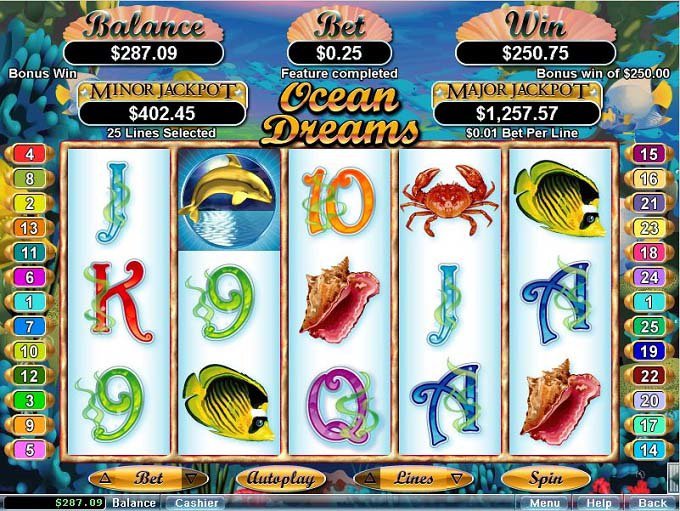 Dreams are very important to our psychological well-being because that's how our brains process our daily lives, struggles, pleasures and pains. Sometimes they could even answer those questions that we couldn't seem to find before.
There are many interesting slots that resemble most people's dreams. I went to Sloto'cash Casino to play the "Dream Run" slot; I love muscle cars and speed so this was an obvious choice. Unlike in dreams, everything was going wrong in this slot. Since the slot has the Feature Guaranteed, I somehow managed to get to 30% when I decided to test my luck. I couldn't believe that I actually triggered the feature. I got 10 free spins and 3x multiplier winning $6.18. I recovered my balance and finished playing with $25.
Before I let this Dream Run turn into a nightmare I switched to the "Ocean Dreams" slot. After only a few spins I got four scatters and I triggered 25 Free Spins which brought me $14.76. I thought it was a good start so I kept playing. Only three spins later I got 10 Free Spins winning $6.69; with some nice base game hits I got my balance back to $40. I continued playing even though I was getting mostly empty spins. That was a good decision because I triggered another 10 Free Spins, but I won nothing! Just before I started complaining, the slot started choosing a multiplier for my bet. I played with a $0.25 bet and I got 1000x multiplier! I won $250!!! The miracle has happened and I was in awe and decided to stop playing having $287 on my account.
Not only that I avoided a nightmare by an inch, I finally had a fantastic time with a great win to make things even better.
Markotik