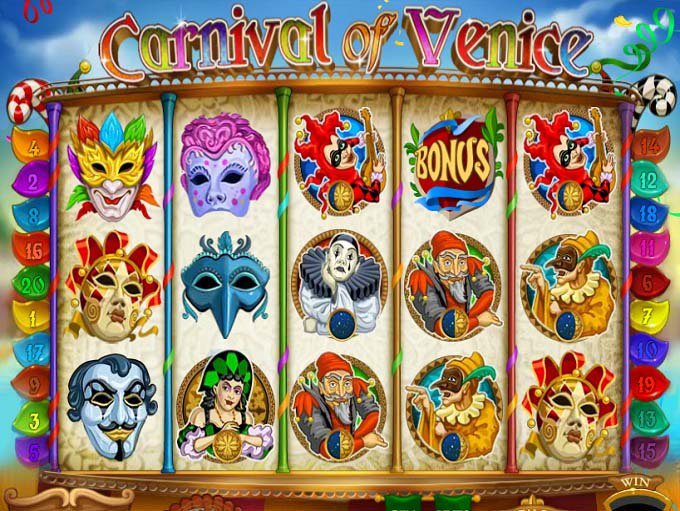 Once again the realization that summer is over washed over me as I was shivering to death outside. The wind was so strong it cut like a knife as if blew almost right through me. I couldn't help but wish I was somewhere else but not just anywhere. A carnival in Venice seemed like the perfect place to be! I was off to Box 24 to ride the reels of Carnival of Venice.
Carnival of Venice is filled with bright colors and a really cheery theme. You can't help but be happy while you're playing it. It's one of the newer Top Game slots to become available and features 20 paylines.
I had peace and quiet and starting betting conservatively but as usual, I got a bit antsy and had to shake things up a bit. When it comes to playing slots I rarely do things conservatively. Actually, this goes for gambling in general.
The largest paying symbol, the yellow eye mask, pays 15,000 credits for five of them. The bonuses include free spins and a bonus game. I was going for the free spins which required three scattered gondolas. I find that the Top Game bonus games usually don't pay well so the money was going to be in the free games feature. I got 2 yellow masks which pays just 10 credits. This was a far cry from 15,000 for 5. I also didn't get a chance at the free spins nor the silly bonus game.
In the end I found myself penniless and back in the reality of a cold and gloomy day. Not to worry though, I wasn't going back out there.
Froggy