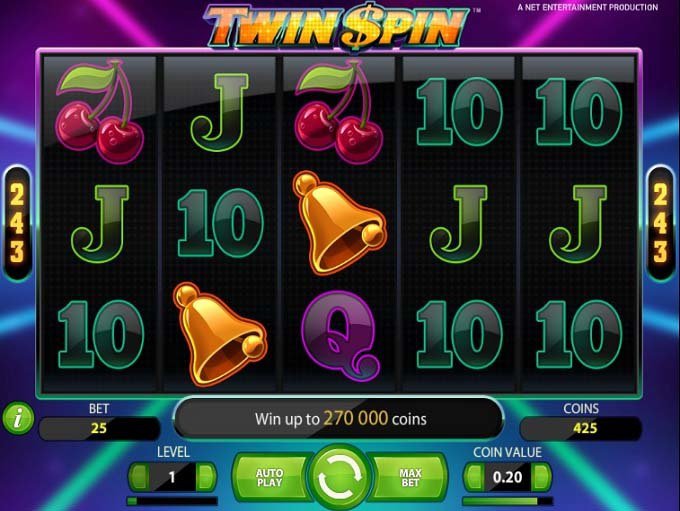 NetEnt had recently released a slot game called Twin Spin. It sounded interesting from what I had read and seen of the preview on the company's official YouTube page so I gave it a shot at Mr. Green.
I must be having some computer issues because the slot took forever to load and I'm not used to that with Mr. Green. They have loads of slot games and they always launch pretty quickly. Anyway, the game finally opened up and I set my bet to $5.
I noticed that players had given Twin Spin and overall rating of 3.2. I liked all the colors but it was one of those 243 ways to win slots. These are the kinds of games that I can barely win one way to win but it does have a maximum payout of 270,000 coins.
The two of the reels mirror each other which explains the whole twin thing. The game really gets exciting when the reels form triplets and beyond to all five reels matching one another.
In the first few spins I had only seen the reels twin and it paid nothing. I wasn't doing very well but I knew there was potential for some really fabulous wins.
Each spin was an agonizing wait. I really need to have my computer looked at because I could barely get through a spin without it freezing up on me. I spent the majority of the time reading Mr. Green's fun facts.
I'll put my decision about Twin Spin on hold until I can properly play it. What are your thoughts on the new video slot?
Froggy