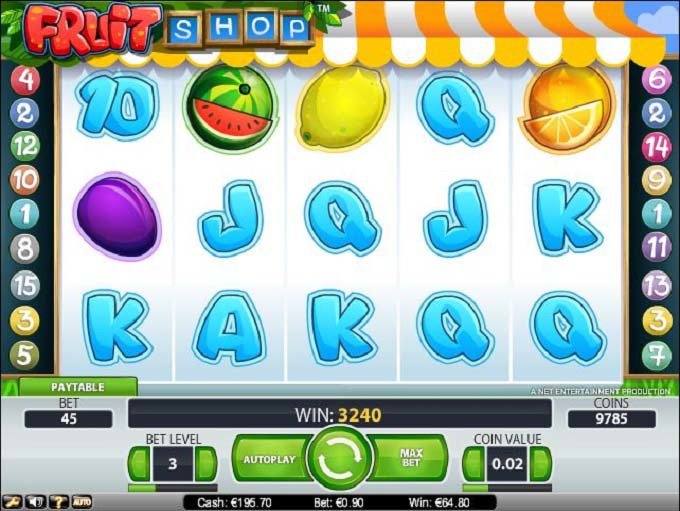 I enjoy playing at Maxino Casino; I have always had a nice experience and there isn't much more that I could ask for. The last time I went there I chose to play the "Twin Spin" slots. The concept seemed to be interesting and I hoped I could get a few good wins with it. On the other hand, I didn't expect much because it's a 243 way slot; it turned out that the latter was correct. The wins were small and rarely even around or bigger than my bet. Once I got €16 in a single spin but that was pretty much it. I started playing with €160 and I lost €50 when I decided to finally stop the spinning. It's just the same as with real human twins – there are some advantages and disadvantages. I guess I had a chance to experience how twin spins can be useless.
I like to eat fruits but recently they taste really bad. Sometimes I wonder what it is that I eat and call fruits. The "Fruit Shop" shop also had an interesting concept; free spins are triggered by certain wins – with fruit symbols. I was playing with a €0.60 bet and then I accidentally clicked the max bet button and I played the spin with a €3 bet. I got a win that triggered free spins, and the total winnings after them were €18. I recovered my balance a bit – I was back to €120. I continued playing with a €0.90 with some really nice wins. I triggered free spins quite often with, of course, different success. And then a miracle happened! I got them again but this time I had 35 free spins in total and I won €64.80. My balance got just over €195. I was really happy and it was a fantastic result.
I stopped playing soon after that win and more importantly I finished by earning some money. I had to stop because I needed to go out, and I hope I will be as lucky next time when I continue my adventure.
Markotik