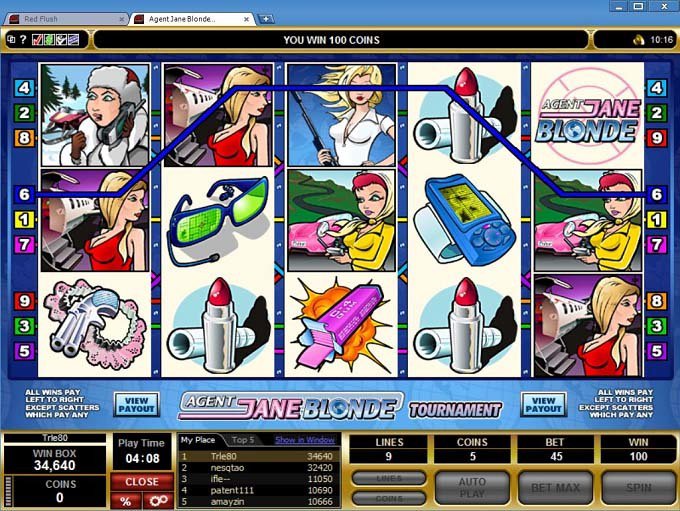 Handling expectations is really tough. It you're optimistic, you're probably going to find yourself disappointed often. No matter if you're playing bingo, slots or you're a sports fan, it's hard to handle when things aren't going the way they should or the way you think they should go. We need to learn how to have reasonable expectations and manage them better. Often there's nothing more than just pure randomness – it's hard to adopt, but it's necessary.
That was just what happened to me last time I have started a freeroll - Agent Jane Blonde Tournament at Red Flush Casino. I had no expectations to do well, and the only thing I knew for sure was that I was going to play with the maximum bet of 45 coins. The tournament starts with 1350 coins so I expected that everything would be finished soon. Not really paying attention to what was going on, I got 15 free spins; I think I finished in the first five hundred with those winnings. I completely overlooked the score but I thought it wasn't important to remember. Being completely unprepared for something like this, I got 15 free spins again and this time some fantastic wins got me to pay some attention to the game. I won 31,365 coins and my total rose to 34,570. I couldn't really believe it, but I finished playing with 34,740 and the first place was mine…. only mine!
Of course, it would be too good to actually win some money – it's a four day tourney and that was only the first round. After two days I'm still holding that first position. It's needless to say that I would like to reach the second round. Let's see what will happen, and from my own experience, I'll be sure to keep my expectations low.
Markotik