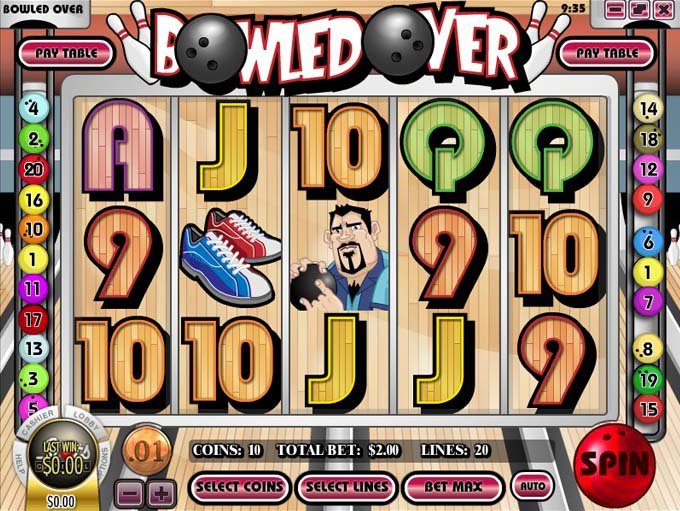 When you have a site called Slots Capital, it kind of says it all. It is a place running Rival software, both instant and downloadable versions, although the downloadable has a much better choice of games. I have already played more than a few times in Rival casinos, so I wasn't much surprised about how the games look good. I definitely prefer the instant version, but I also love to have a decent choice, so in the end I did download and install the software on my computer. It went smooth and fast, but do note that it will probably prompt you for installing additional stuff from time to time. I think I would prefer a larger initial download instead.
Anyway, I decided to go with the Bowled Over game, since I am a huge fan of bowling (hey, I am not saying I am such a good bowler, but I keep trying!). I just love the whole thing: the lanes, bowling shoes, and all the little rituals that go with it.
Needless to say, Bowled Over has 5 lanes, and looks really nice, kind of like a cartoon, but I really enjoyed every second of it. There are nice additional games, where you get a chance to throw the bowling ball and the number of pins you manage to take down determines the bonus that you get. I was pretty good for a while and I managed to play for an hour and a half with a little deposit of just 10$, a times making it 2.5x of my deposit. Once again, I really have to learn to call it on time, because I was having too much fun and wanted to play even more. I did stop, and made the play-through, but decided to leave the money on my account so I can play again with the same deposit. I have a feeling that this game is not that tight, but I might just have been lucky.
Lootva