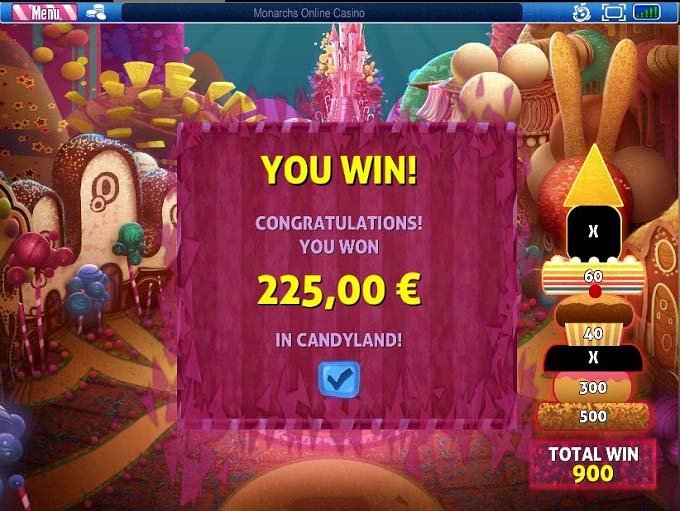 I have recently discovered a new slot called "Sugar Rush" and after the first time I played it, I thought it would be the last. It was awful and I said to myself that I was not going to play that slot ever again. But you know how they say "Never say never"; well, when I visited Monarchs casino I played the slot again.
So, I started playing with €350 and €5 bet. At the beginning nothing happened as expected but then I got the bonus round and won €225, my balance got to €550. I wasn't sure if that was for real. Only a few spins later I triggered 10 Free Spins with only two winning spins I got €116.25. Still suspicious, I kept spinning and amazingly I got the Free Spins again. This time, with just one winning spin I got €150 and my balance jumped to €765. I was really lucky with the features, no doubt about it, but the base game is really bad. Thanks to the best size I got some really good wins that kept me going but there are just too many empty spins. I stopped playing having €600 on my account.
I lower the bet to €2 for the "Carnival in Venice" slot, and it was really bad. At the beginning all wins were far below my bet size and I was losing money really fast. After I lost €60 and I needed only a couple of minutes for that, I got the Bonus game but I won only €5. Free spins brought me €7.80 and the base game started warming up a bit. I got some nice wins in it and then, in one spin I got €102. I kept playing for a while longer and I stopped when my balance showed €600. At the end I was happy how everything turned out and I stopped only because I had a busy day ahead of me. I can't wait to continue.
Markotik