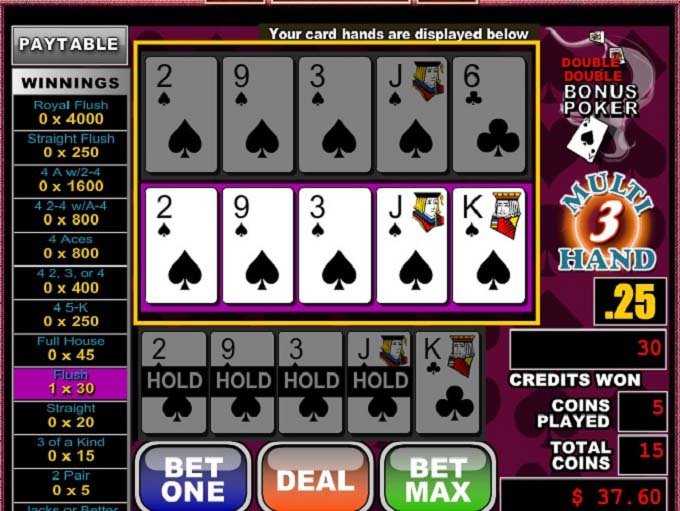 I have been having some amazing luck with video poker in the land casinos these days and I thought I would give it a try online at Aladdins Gold.
I typically play multi-hand quarter poker in the land casino so I chose the same denomination online and played the three hand version of Double Double Bonus Poker. The payouts are good at 4,000 credit for the Royal Flush and 1,600 for four Aces with the kicker. It turns out to be $4 per hand which is much less than I'm used to in the casino. The land casino can be something like $7.50 to $12.50 per hand depending on which game you're playing and if there are any multipliers involved.
My first few hands were nothing great. One thing I've found with video poker is that it pays much better than slots. Your odds are better all around. When you hit something decent it really pays but it can take money to make money.
Sometimes it's a bit more money than I'd like to spend and it doesn't always pay off.
I was dealt two Aces and hoped I could get four but no such luck. I was then dealt two 7's which never seems to pay off for me. There are certain cards that just seem to never pay when it comes to video poker and it was holding true online as well. For examples, I hate so see 5's, 6's, 7's, 8's and 9's. Unless I've been dealt four of them, they never come.
Sometimes you've got the Midas touch and other times you can get four of a kind no matter what. Some days are like that and today was one of those days for me. Not one four of a kind and the best hand I could pull off was a flush for 30 coins.
Froggy