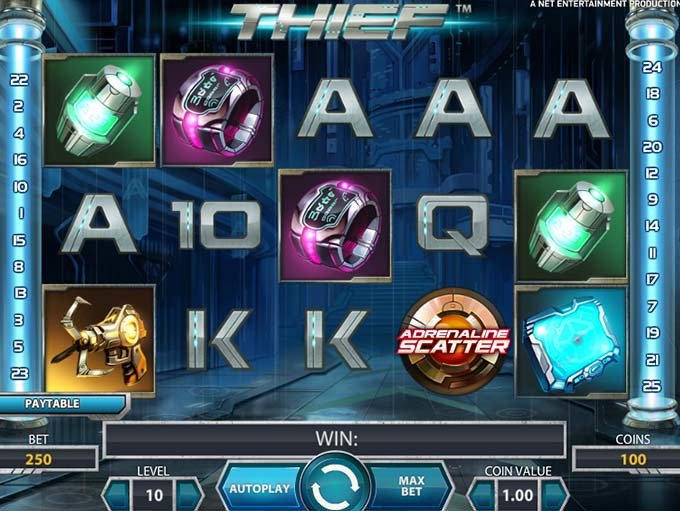 From time to time, I like to give some odd places a spin, and so I target casinos I had some bad luck before, or just places I heard that were, well, bad. Now, I don't exactly love to throw money around, and that is why I look at no deposit offer, and just play around to see if it is worth depositing. I have visited Karamba before, and was not all that satisfied. Well, I guess that I got what I deserved in a way. The layout didn't change much, if at all, and it is not that interesting. They are still rocking two softwares: NetEnt (my pick) and NeoGames that I am not that familiar with. I stick with the good old stuff, and before I knew it, I was hitting Thief, one of my favorite slots of all time. The game is not new, a lot has been told already and I just wanted to test it out, to see if they have tighten up the screws.
To my surprise, the free rounds went smooth enough, with slots hitting a win in every 5th spin or so. I have never played slots with that good percentage, so I was naturally pretty suspicious. I did finish quite good, making it around $100 when I finished. I thought that it may actually work out, so I deposited a $20, to see if I can multiply it easily. Care to guess what happened next?
Funny thing is that the WR is not at all that bad, and I really felt I might hit it big for once. Well, not really. I managed to get to 50$ in the first half and hour of playing, just feeling great for not losing my money fast, thinking that I will get a lucky roll make it all worth. Then, in the next hour or so, I went down to 30$, still somehow staying above the water, and then just a bad streak that ended me in 5 minutes. What to say, I think that I will take a break from Karamba.
Still, I like NetEnt Slots, and Thief is one of those games I always spin for a few times, and that is not going to change yet.
Lootva