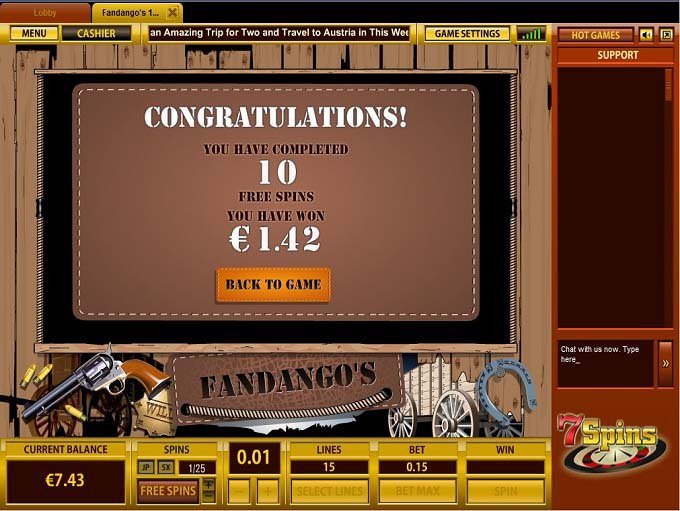 I made a small deposit of €20 to play at 7 Spins Casino; they have some interesting games though not too exciting in my opinion. Gambling could be considered as playing with fire I think because sometimes it's easy to slip off and burn yourself; instead of fun it becomes a torture. That's why I always take care of my budget and it is important to keep online gambling fun and entertaining. So, the first game I played was the "Dice and Fire" slot, but it was awful. I had many empty spins and I couldn't trigger any feature. I lost €8 in a couple of minutes and I knew I had to stop before I get burnt. That was too bad because the slot is very nicely done so I'm proud I wasn't hypnotized by it and spent money I had.
Playing a completely different slot isn't very surprising decision. I have a tendency to go from one extreme to another. I chose to play "Fandango's" slot and it was, in my opinion, different from the first one I played. I had a really good time but it became a bit boring; sounds, animation and graphics are far from impressive. I played both games with a minimum bet of €0.20, but the difference was noticeable. With this one I got some nice spin wins and I even managed to trigger 10 Free Spins. Unfortunately, I won only €1.42. I continued playing anyway, and I was satisfied with the base game – not many dead spins, and nice winning combinations.
But still, even the winnings I had were not enough to fool me to continue playing. Good thing is that I didn't get burnt and spent all money at once.
Markotik