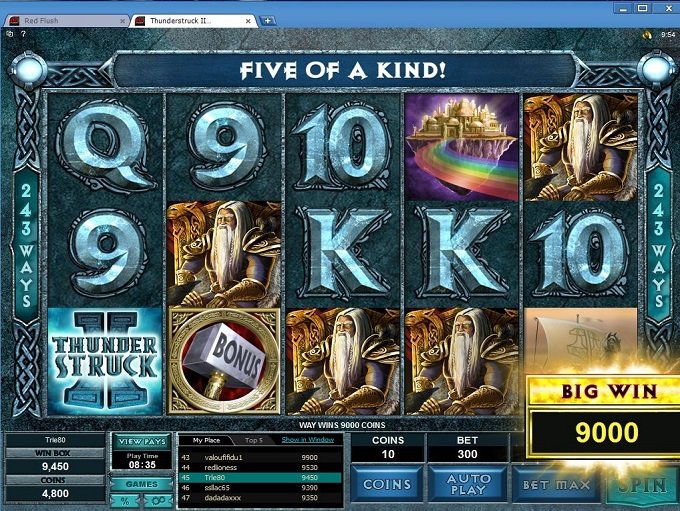 I like freerolls, but who doesn't? Red Flush Casino has great ones every day and I finally had a chance to play Thunderstruck II for free. Yes, it was a free roll tournament and I couldn't have been happier. It's not much, only 10 minutes and 9000 coins but since it's free I won't complain. Since I don't have much luck with tournaments at this casino I decided to just keep playing with a maximum bet and if something good happens, that's great. I actually had some nice results with this well… let's call it a tactic, but that doesn't happen very often.
The maximum bet is 300 coins; I started spinning and I was at zero longer that I would like it. Almost in every spin I got two scatters for Free Spins and I almost had some awesome combinations. I could say that I've almost had a great score. I got two small wins that accumulated 450 coins when I got a fantastic win. I don't think I ever got such a good win in one spin – I got five of a kind of Odins and that win brought me amazing 9000 coins. With that win I got to 45th position but unfortunately, that was everything memorable; I collected 10650 coins in total and I was done in four minutes finishing at fortieth position.
I know it may sound stupid but I was so excited about playing this slot and even though it wasn't a good result I enjoyed it. It's interesting how the fact that I'm actually playing for free changes my mindset and the outcome is not really relevant, at least for me.
Markotik