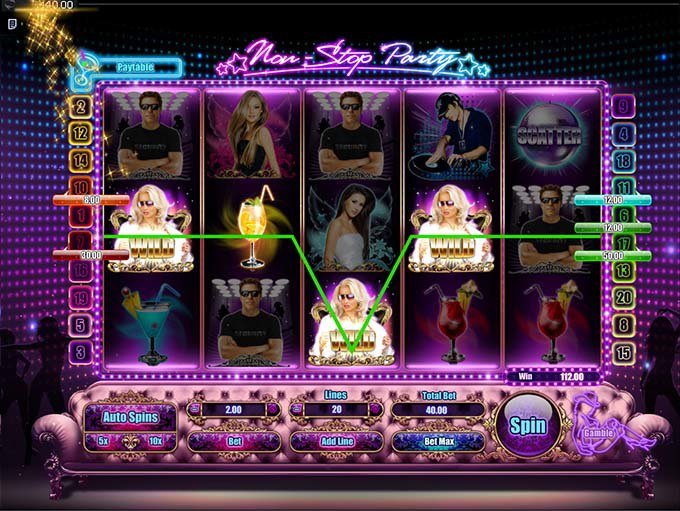 Another one of the new places that I have discovered lately, HeavyChips casino combines Playtech and GameOS software into a very interesting platform. The site looks modern and with a nice dark theme, manages to stay very fast and easy to navigate, despite the fact that they use some nice resolution graphics. I prefer sites with fast registration process, and this is a good example. You can get it done in under a minute, with the confirmation email coming within seconds upon the registration. Word of advice, do check the Promotions tab at first, and collect the codes, so you have them at hand when you register (you get to enter the code in order to activate the promotion). New player promotions can't be activated after the registration.
I like to check out the new Slots on every sites, and here, I found my new favorite: Non-Stop Party. It's a neon-themed really nice looking game, with full screen option available.
First of all, the game itself looks really sharp and better than most that I have played lately. It turns out that I made the perfect choice! I played Non-Stop Party for around 3h, and starting with caution, just probing for a few lines here and there. I deposited $25, and thought that it will not last me long. I was wrong, to my surprise! I relatively quickly got up to $50, and stayed around it for more than an hour. Then, a lucky break and I won over $100 in one spin! I couldn't believe it, and then It got me going. I ended up just above $200, and that's where I stopped. I am very satisfied, and I plan to come back to hit a jackpot! I didn't expect much, must be honest with you, but it turned out awesome and I can't wait to play again. Will wait for cashing out, as I really want to collect a bigger sum. They have some other new slots, and that's my next pick!
Lootva