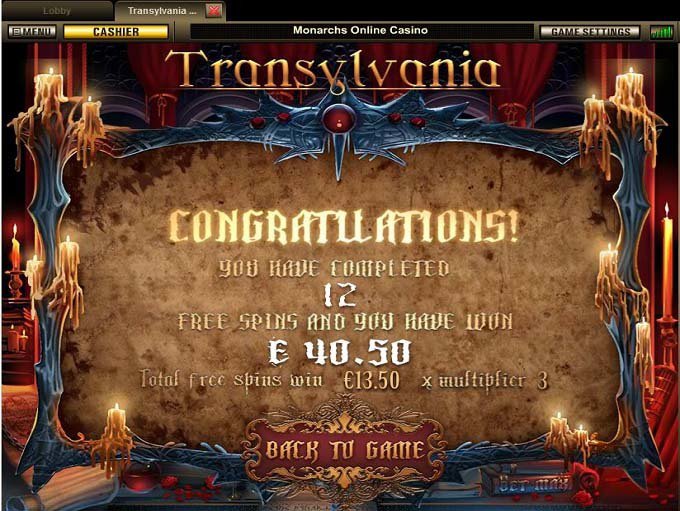 I played at Monarchs Casino with a bit bigger balance that I used to; I had €500 on my account and I was ready to play; I had big plans and high hopes. Since I can't wait for summer to arrive I had to give a chance to an appropriately themed slot. Being on a beach, drinking cocktails, playing beach volleyball with friends are just some of the activities I'm looking forward to and think about during winter. I found one slot really suitable and it was "Summer Party". I started playing with a €5 bet. It didn't go well; I lost €200 relatively easily without any major wins and no features. I had three scatters very often but they were never on a pay line. It was very irritating.
Completely disappointed and started playing the "Transylvania" slot. I lower my bet to €2 and nothing good happened until I got to €186. That was when I got 12 Free Spins; I was excited about the prospect of winning some serious bucks finally, but no, totally opposite thing happened. I won just €10.50, and that was thanks to the 3x multiplier. It was catastrophic. A bit later I trigger them again and this time it was a bit better, but far from impressive. My total win was €40.50. I somehow managed to finish playing with €200. Well, I felt bad after the first slot and I wanted to play a dark slot and I guess that was what I got.
I realized how my inner feeling was playing tricks on me; I was feeling sad and perhaps I was even at a dark place so I thought Transylvania would be a good choice. The only thing that I was happy about was that I stopped and didn't waste all the money. One could say that financially I literally went from sunny beaches to the cool depths of Transylvania in less than an hour.
Markotik