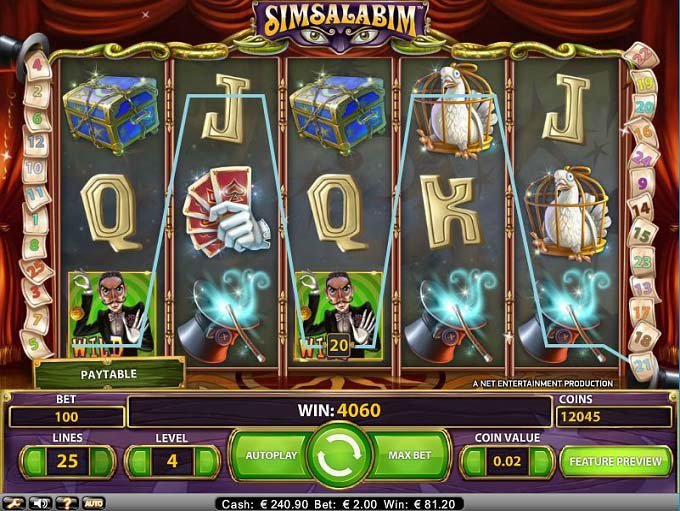 Even though I have a driving license I prefer walking and I drive only occasionally, when I have to. Later when I got more interested in my own health I found out just how much walking actually helps prevent many diseases. Regular walking routine lowers the blood pressure, prevents cardiovascular disease and also helps maintain weight. It would be so cool to be able to stay in shape magically with no effort at all. If magic can't help us in that department it surely can entertain us just like the "Simsalabim" slot I played at Vera & John Casino.
I decided to, and luckily I could play with a decent amount of money; I thought that €200 should be enough even if some things go wrong. My bet was €2 and nothing good was happening until I got down to €160 when I finally experienced a very nice win – it was really cool, with five magic hats. That win brought me €81 and my balance jumped to just over €240. I was back down to €185 when I triggered 10 Free Spins; it really took me some time to get them. I retriggered another 10 and my total winnings were €103 - it could have been much better because there were many empty spins.
Having €287 on my account I gave a chance to one of my favorite slots "Dead or Alive" but it was terrible; yes, I triggered 12 Free Spins but I got only €9.6, in the base game I had all dead spins. After a few minutes I had €200 playing with a €1.8 bet which was an alarm for me to stop. I switched to the "South Park" slot and hopped for a feature. And I got Stan Bonus Spins and some nice wins in it earning €102. I also triggered Kenny Bonus Game after which I raised my balance for €63 and got up to €281.
After a few more spins my friend called and we went out for a walk; I certainly didn't want to miss that especially after this good slot session.
Markotik