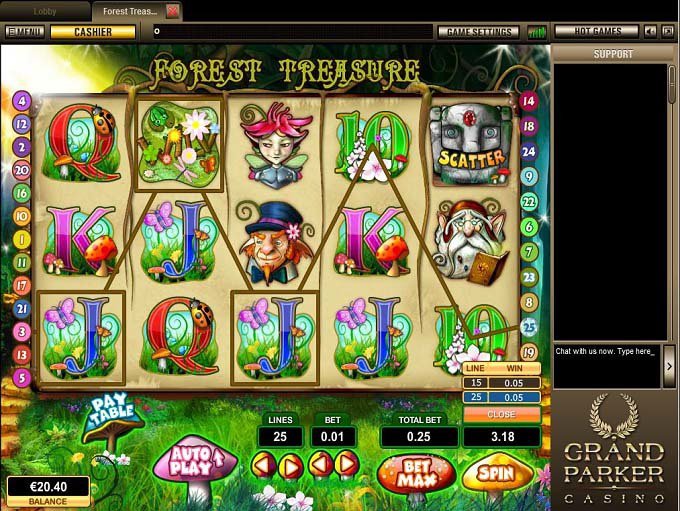 Most people don't know to occupy themselves when it's raining; all we can do is stay at home and try to find something interesting to keep our focus. Sometimes I like checking out new sites; I spent a lot of time on the Internet and I surely like to try out new casinos. There's a special excitement for me about it; I wonder whether they will stay around and give great support to its players. One of those is GrandParker Casino powered by Top Game software.
The first slot I tried was "Cool Stone Age"; I hoped that this time it would be different but that didn't happen; it's the slot with pretty useless features. I triggered The Bonus game but won only €0.15. I didn't have to wait long for five free spins but they brought me only €1.23. It was weird - nothing special happened and I stayed just above €19, which is great since I started with €20.
I then tried the "Lucky Fishing" slot; it was pretty much the same as the first slot I played except this time I couldn't even trigger any of the features. I got bored and I stopped. The last chance I gave to the "Forest Treasure" slot. Very fast I triggered The Bonus Game in which I won €0.55 and a few spins later I got it again and on that occasion I won a bit more meaningful €2.55. In the first spin after The Bonus Game I got even 20 Free Spins, during which I got The Bonus Game again, but my total winnings were very low €3.18, but still I finished playing with €20.40. I was surprised with how much money I ended up playing but this wasn't the first time I had such experience with these slots – my balance fluctuated between €15 and €20 the whole time.
It started clearing up outside so I went out and enjoyed the rest of the day.
Markotik