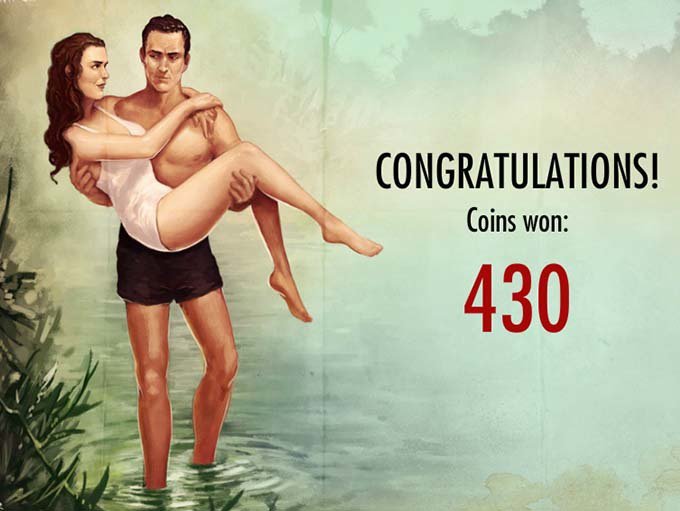 I didn't win much lately, and I was actually feeling quite bad about playing again, so I wanted to play in a really good casino, not risking with dodgy ones. Then, I remembered ComeOn Casino, a place that was left in quite a good memory, since I won there over $200 in slots the last time. Well, I think I gave them time to cool off a little bit, and I just wanted to see if I am still lucky. Well, I can't help but say that I love NetEnt slots, and I personally think that they are among the best out there. I choose Creature From The Black Lagoon (I just love that movie!), and since I prefer to play one Slot per session (win or lose), I was on to this one for the evening.
I was planning to play this one for as long as possible, starting with a nice $50 deposit to try to make it last for a while. I don't have any rules about depositing, usually just deposit at once what I have, take the bonus and roll.
I was playing small at first, just a few lines at once and with the smallest coin value, which is a nice way for me to relax and test how things work. I was having a nice evening, drinks at hand, not too tired and in a mood to finally win, so I guess that had something to do with me making a more than good result! I started increasing coin value to $0.5 and including more lines at every 10th spin (it's just something I do sometimes), and after some time, I hit it good, winning over $200 in one spin. I was on to something! I decided to continue the same strategy (if you can call it that way), and after a while, I won around $150. My initial $50 deposit was up to some $350 in a few hours of playing, and I was quite happy about it. I even managed to unlock the side game, win some free spins, unlock some wild cards. I am not going to spoil the fun, but this is definitely one of the best Slots I have ever played, and all that with a smile on my face, since I had a very nice result all the time. I finished and decided to cash in about $200, leaving the rest so I can play another time. Now, finally, I feel like I am on to something here :)
In the end, I used up bonus points I have earned to buy some lottery tickets in their shop, and now, I will keep my fingers crossed. Wish me luck!
Lootva