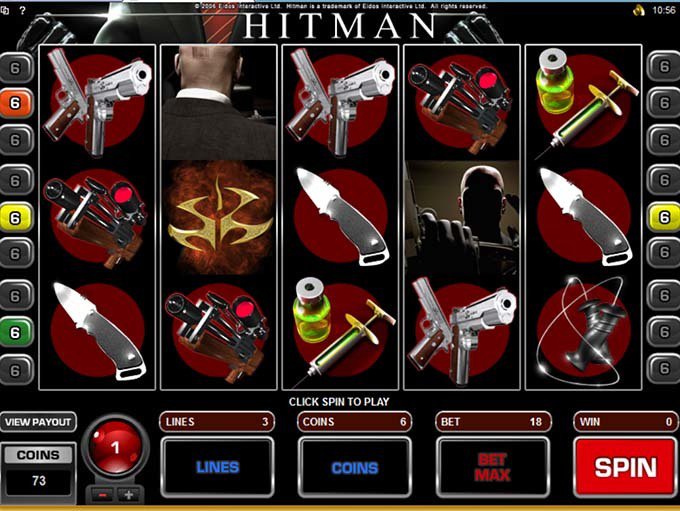 Prime Casino runs Microgaming software, so if you have played anything like that before, you will recognize the games straight away. Microgaming is one of the oldest and practically a standard in the gaming industry. Personally, I don't like downloadable content, first because I have to disable my antivirus just in order to install it, and then again, you have to wait for additional downloads every time you start a new game. Anyway, it's just enough to say that some of the best known games are from the Microgames list.
No matter what I play and find, every few weeks I get back to good old Microgaming slots. Let me be clear, there are some way better looking slots out there (more each day as it seems), but I still love those titles like Thunderstruck II, Avalon and Battlestar Galactica. This time however, I stayed playing Hitman. Was a huge fan of the game, and I love the theme. Just a quick note, you can get over 250 different slots in here, so take your time to choose.
I played Hitman before, winning around $150 to $200 at once, so I was back on my home turf, so to speak. This time, I deposited around $50, having no problems with getting the bonus. With the 50x wagering requirement, it is not all that bad, and I had some luck to get past that.
I wasn't all that lucky all in all, and although I was hoping to walk away with at least $100, which should be relatively easy. Well get this, I got to a plus $300, and was really happy with it! It was slow, I will say that, and it took me a good 3.5h to warm up decently. Sometimes, I like to play fast, just spin 'till I win, but this time, it was more of a methodical game, experimenting with the number of lines and coins, and it did pay off. I am waiting for the money to get to my account, but I know they cash out really fast, and it still hasn't been more than 24h.
Lootva