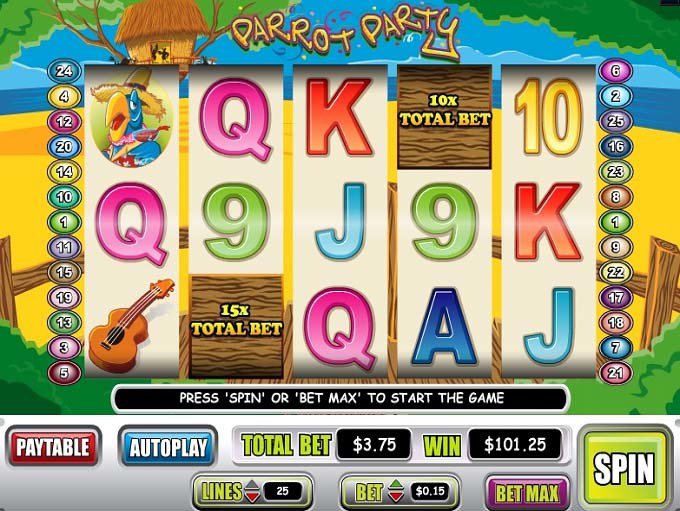 I let my parrot out of his cage all the time but lately he has developed a new habit of chewing on the wall. I noticed a few beak marks at first then it turned into actual chunks missing from the corner. I tell him "no" and he seems to understand yet he continues to do it. It's almost like a game for him. I say no and he keeps biting the wall until I get up and go over to him. He decided to take a nap giving me some free time to play online. I was off to Liberty Slots and the Parrot Party slot game!
I set my wager to $3.75 per spin and my goal was to hit the bonus. I had to laugh at the parrot with a cocktail in his hand. Mine would have drywall in his glass! I was hitting very small amounts which were barely enough to cover my bet.
I got three music note symbols on the reels and thought I had triggered the bonus only to realize that it was just a scatter symbol. I need to get one or more hut symbols on both reels two and four. Huts? I hadn't even seen that symbol yet!
Finally it was time for the bonus! I won $101 and suddenly I began to hear some tapping on the wall. My little monster was awake and ready to party!
Froggy