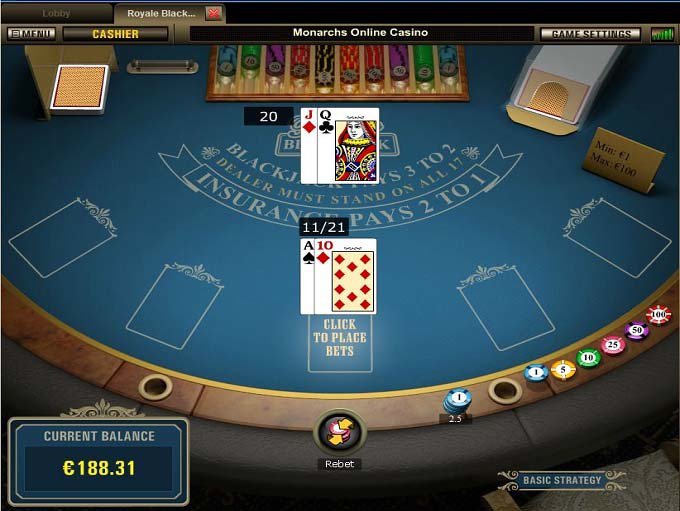 After some time I went to Monarch Casino just to change up the things a little bit. Those are not my favorite slots but sometimes I just feel like playing them. The first game I chose to give a spin was the "Witches Cauldron" having €200 on my account. My bet was €1 and luckily I didn't have to wait long for the Bonus game which brought me €18. It wasn't much but I considered it to be a good start. A bit later I triggered the Free Spins but unfortunately, I won pathetic €0.90. I thought I was very lucky when I got the Bonus Game again, but lucky person wouldn't have won only €0.20; nevertheless, I continued spinning. All in all, it wasn't too bad; the base game was really good.
I thought it would be a good idea to play some blackjack since I haven't played it very often. I opened Royal Blackjack, and it was okay and I kept my balance between €185 and €190. It wasn't anything risky; my bet was €1. After this short break I went back to my beloved slots. Playing "Forest Treasure" has always been fun, and this time I had some nice winnings, as least at the beginning. I got a very nice win of €26 but I didn't see it well because I kept frenetically clicking the Spin button. With a nice win in the Bonus Game of €11.25 my balance was around €210. Later on, even though I triggered both Free Spins and the Bonus Game for the second time, all winnings were very low and discouraging. I did finish playing with €195 so perhaps I shouldn't be too disappointed.
It's the pretty much the same outcome whenever I play these slots; they are quite predictable and I find them even a bit boring sometimes.
Markotik