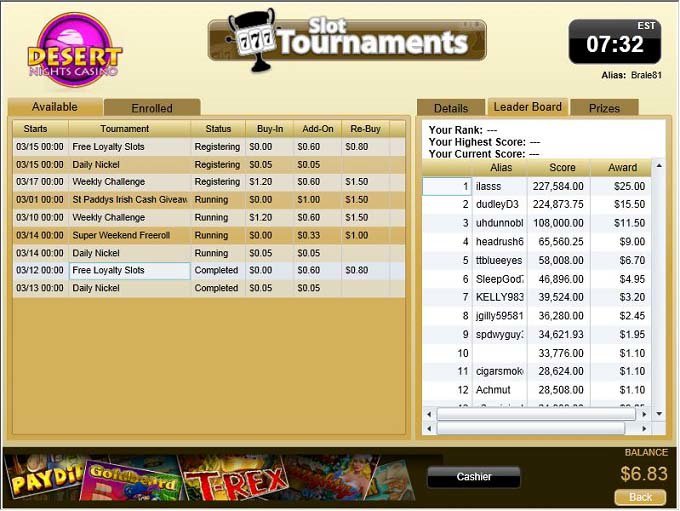 It is really nice when a casino offers free roll tournaments; it's an opportunity to earn some bucks without making a deposit and really enjoy the games. Sometimes even when I'm playing for free I have high expectations; I really want to win a tournament. Unfortunately, I'm yet to be victorious. I find it strange that even when I don't invest any money I get slightly irritated if I don't win. Only a few times I managed to be in top five and win same nice prizes that way.
Desert Night Casino has daily free rolls and unfortunately I don't always get to play them. A couple of days ago I have played the White Rhino Tournament; all players got even 10,000 credits and 10 minutes to spend them. After a few minutes I was already down to 5,100 credits accumulating only a couple of thousands. At that moment I got amazing 29 Free Spins and they didn't stop coming till the end. I got 12 and then 15 more Free Spins and at one moment the counter was showing 36 remaining Free Spins. But that was not all; I stopped counting them so I was amazed when I saw "57 Free Spins remaining"! The winnings were not too impressive but I really couldn't complain. When the time was up I had 27 of them left so I decided to buy an Add On which cost $0.60. At that moment I was at the 11th position but with 7000 credits more I hoped to improve it. My score was around 28,000 and after five more minutes I got to 33,776 and the 9th place.
The next day I checked the final standings and I was 10th earning $1.10. Winning even a bit over a dollar on a free roll I consider a success, of course $25 would be better but that's only for chosen ones.
Markotik