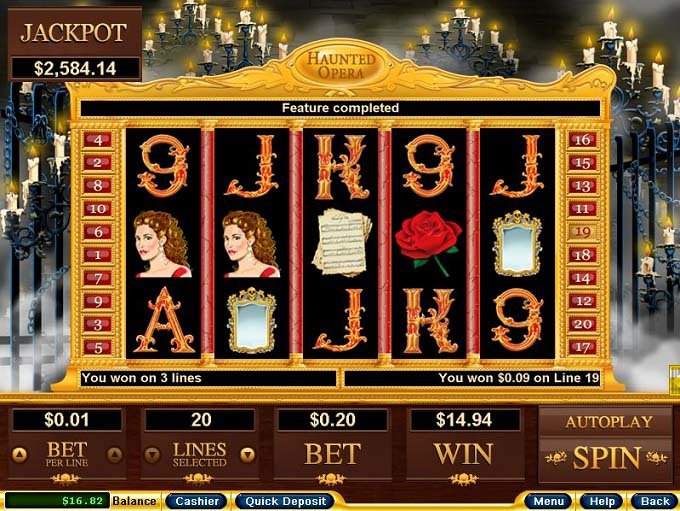 Sometimes it happens – it's tough but I was on a really tight budget so I just deposited $10 to play some slots at Sloto'cash Casino. I wasn't really sure if that was going to bring me any good but I gave it a chance. The first slot I played was "Aztec's Millions" and, of course, I played with a minimum bet - $0.20. But it started just the way I imagine. Nothing much was happening, occasional nice win but even though I got two scatters a few times, I couldn't actually trigger free spins. That was how I spent the first $5 of my deposit.
Then I put some more thought in making a decision what to play next. For me, there was no choice as good as the "Haunted Opera" slot, and I made a decision to either make it or break it. It didn't start good, but when I was down to $1.13 I triggered five free games and got another 20 extra spins. My total winning was modest but okay, $7.62. I could breathe a bit easier afterwards. I trigger them again but got only three extra ones earning $2.73. I thought that that was it when I got under $2 again. But I got the Free Spins for the third time and this time I accumulated amazing 59 extra spins. Unfortunately, I didn't win much – got only $14.94 from these free games. It was a bit disappointing but still, I guess I should not complain because I finished playing with almost $17.
It was a small improvement and it was a very nice ending earning $7. Perhaps I should have continued but I had to leave but I hoped that next time I resume my play I would manage to at least double my balance.
Markotik