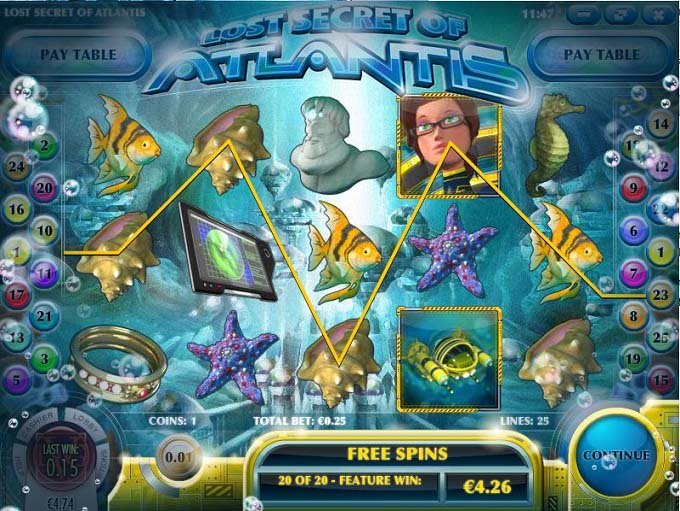 I haven't played any Rival slots lately so I decided to give it a try at DaVinci's Gold Casino. I saw a couple of games which I haven't had a chance to play. The first one was the "Silver Unicorn" slot and it was such a joy to test it because my niece loves unicorns, but is there any little girl not obsessing about unicorns? Not really! Unfortunately, the slot wasn't as entertaining; nothing exceptional happened – some small wins and dead spins. Out of nowhere I got five Free Spins with a 3x multiplier but I won only €1.20 – I had only one winning spin. In the next spin I got them again, quite unbelievable. But I won only €0.51. It was quite disappointing so I have to tell my niece to let go of unicorns; they are not real anyway. I mean, they are someone over the rainbow but I don't know how to take her there. Perhaps that place is only for princesses and similar creatures.
The other slot I chose was "Lost Secret of Atlantis"; it was a new one for me so I hoped it would be generous. But it wasn't; somehow, after quite a while of spinning, I got the bonus game winning €6.50 which wasn't so bad since I played with a €0.25 bet. I hoped that exploring a lost island was going to be more interesting considering the stories and legends which have stayed popular till this day. Being an idealist I kept looking for my utopia an I stumbled across 10 Free Spins with 3x multiplier twice but it turned out it was only a fata morgana. I thought I saw big winnings but instead I won €0.51 and €2.07 respectively. Luckily, features kept coming and I was happy even though the winnings were far from impressive. The only thing I was satisfied about was the play time… I stayed and played the slots for quite a long time.
I liked the games I just wish unicorns were more generous.
Markotik