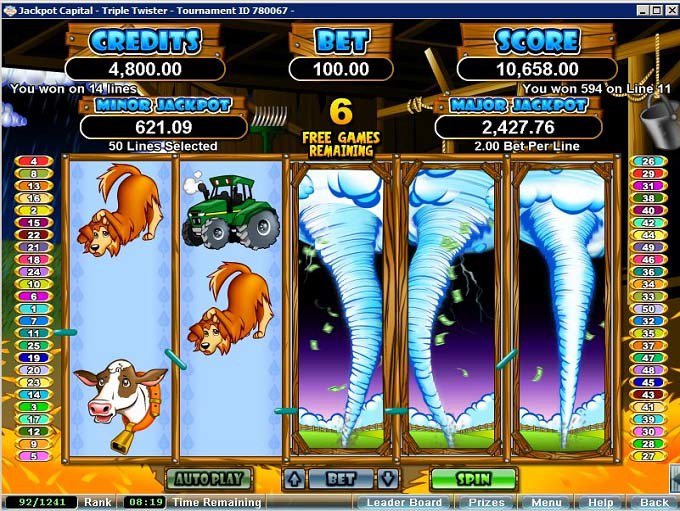 I like to play all slot tournaments, not only free rolls but I've been the luckiest playing them. I don't know what could be a reason but when I pay to enter a tournament I just don't do well. Jackpot Capital Casino has some great tournaments which I really enjoy but also they offer a weekly free roll. I don't know why I have skipped it for such a long time but this week I decided to give it a try. This time one of my favorite RTG slots was scheduled "Triple Twister".
There were already almost 1,300 players who have finished the tournament so I knew that something extraordinary has to happen to get to the top 100 and win a prize. As anyone else, I started off with 5,000 coins and even 10 minutes to spend them. Right there at the beginning, having 4,700 coins, was the moment I triggered nine free spins. They were not too generous but still they gave me some nice winnings. I got a twister on the third reel and it spread to the fourth and fifth, as well. I got 10,658 just from those winning combinations, until the end of the feature I accumulated 12,638 coins. I thought it was a great start and I was already at the 70th position. Unfortunately, after that nothing much happened; I got to only 14,648 coins and I had over two minutes left when I spent all credits. I ended up at the 48th position and I hoped it would be enough to keep me in top 100. It's just a couple of days left; I know it will be tough so I don't get my hopes high.
Now I have to wait a bit but they say that patience is a virtue, but I'm more concern that it pays off this time.
Markotik