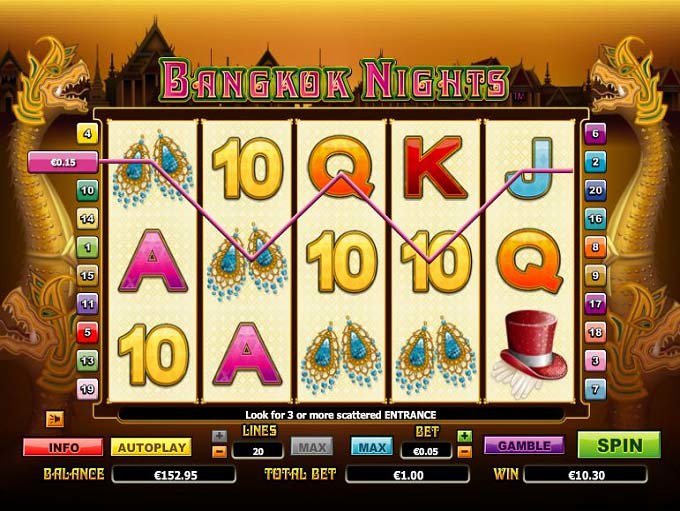 I've always wondered why people change their minds. But it seems that the reason lies in the way our minds are build. Contrary to common understanding, people judge based on their preexisting beliefs. For example, if someone believed that you are incompetent then you managed to make an achievement he will quickly assume that you were lucky. In another words, we'd do anything to keep out beliefs intact. It's the same thing with me and my favorite casinos; I stick to ones I like and only sometimes give a try to different ones.
WPT Casino has slots that I don't really play very often so it's quite interesting to try them out. I started playing with €150 and after brief deliberation I decided to play with a €1 bet. I first played the "Bangkok Nights" slot and at the beginning it was really good. Got the Pick and Win feature and I won €4 and that's when I had made the first mistake. I first picked a lady that brought me €10 but I changed my mind and I chose another. I hated myself at that moment. Luckily, some good spins followed and I got to close to €155. After that everything went downhill, and I got to €75 rather easily and it was time to stop.
I then played another slot that I like and that was "Doctor Love". I continued playing with a €0.40 bet. Nothing rememberable happened but there weren't many empty spins, and I had occasional solid wins. That was enough for slow melting of my balance. In both slots I could only get two scatters and that was very annoying, perhaps I should have stopped playing earlier. When I lost all my hopes having €50 I raised my bet to €1 and I continued. Soon after I finally got 10 Free Spins, but the winnings were modest – I got €19.15. I finished playing with just over €50 and I decided to leave that for later. Hopefully, next time will be better.
Markotik