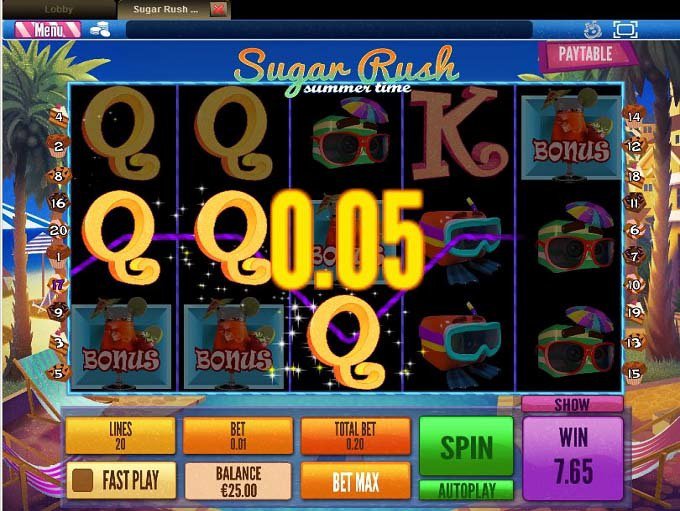 I've never thought that there's such thing as Summertime Depression, but summer does come with its own problems; we can be bored, coping with the heat, and challenged to make our time wonderful. Usually some extra activities can be really helpful, like garage sales, or car washes; for families it could be a great way to involve kids. It could be rewarding if possible to come home earlier at least once a week and spend some time relaxing, or with family, or get in touch with some friends and go for coffee.
Summer is getting closer and it is only natural that there are many slots that will put you in a right mood. So, when I went to Top Game's Grand Parker Casino I decided to try out their new version of the "Sugar Rush" slot called "Sugar Rush Summer Time". I had €20 on my account and started playing with a €0.20 bet. It didn't start well even if I triggered the Bonus round; I won just €0.20 and I just don't get the rules – I don't know when I'm going to win or lose. The game warmed up and I had some nice wins and I got The Bonus Game again and this time, luckily, I won €7.5 which was nice. With some really cool wins I actually finished playing with €25 on my account. Too bad I couldn't trigger Free Spins though.
I also played the "Forest Treasure" slot and it was fun. I got some nice wins and I triggered The Bonus Games twice. Both times the winnings were modest, €0.65 and €2.25, but somehow they helped keeping my balance stable. I even finished playing with more than I started with; I had €23.14 at the end of my gaming session. I played this slot many times before and I usually had nice experience with it. This time it was fun playing these slots, at least, something good was happening.
Markotik