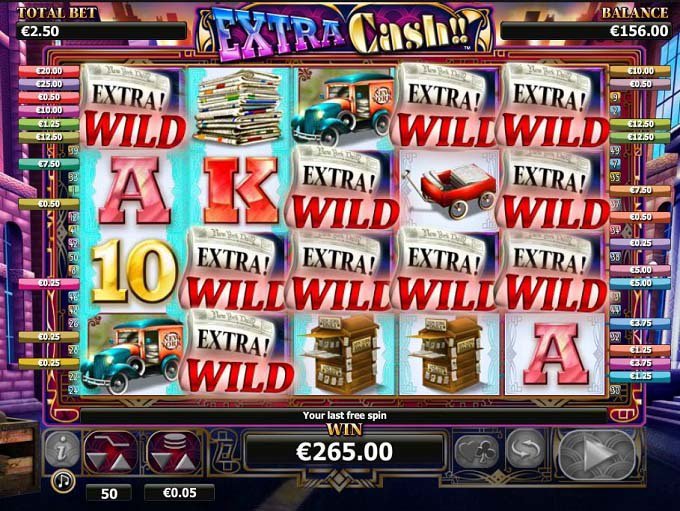 There are so many games now on CasinoLuck that it's always tricky to choose one to play. But one game banner really popped out and I just couldn't click on anything else. So, I decided to start off my adventure with the "Extra Cash!!" slot. It sounded like something I needed to inspire myself and hope for some extra winnings; that would be welcome after a while of bad luck.
I had €200 on my account and I thought about raising my bet a bit. I thought that a €2.50 bet would be appropriate, and I could finally start playing. The slot has some very interesting animations and it's quite fun to play. I had an impression that there were no empty spins, which was refreshing and new to me. Of course, the winnings were far smaller from my bet size. I was lucky enough to trigger 12 Free Games and I got €25 just for triggering them. Very encouraged I started the Free Games. In the end, I won amazing €265! After that I played a bit longer but stopped having €410.
I hoped that the next slot would follow the steps of the first game. But when I chose the "Wonky Wabbits" slot I knew it wasn't going to be the same – I expected a lot of dead spins. I raised my bet to €3.60 and all I got were empty spins with an occasional small win. I had to lower my bet to €2.40, and then, after I lost around €150, I got three wilds which multiplied to six and I got a great win - €166! My balance got back to €427 and couldn't have been happier. My guts told me that that was it, and I wasn't ready to go through gazillions of empty spins again and wait for a potential new mega big win.
I enjoyed both games very much and luckily my risk paid off and I doubled my balance and it is a good base to continue playing next time.